Billie Joe Armstrong:

I love all of yours.
how dare I leave out Holmes/Watson

Oh!
Jude Feeney/Max Carrigan (Across The Universe)
Owen/Tosh (Torchwood)
Fark. How did I leave out Owen/Tosh? And you slash Jude and Max too?

I can't watch anything without seeing possible slash.

For an example, in my head I pretty much slash all of the Monty Python dudes (except Terry G. and John... Just, no). And Master/Doctor is

.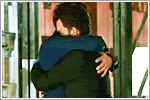 My OTP doesn't need photoshop.

April 24th, 2010 at 03:13am