(searched, found nothing similar, lock if unnecessary though.) :)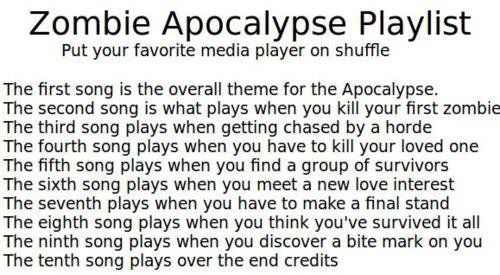 So, I thought this would be pretty amusing. :) Click shuffle on whatever media player you use, then click 'play.' Have a wee giggle to yourself about it all, and post your playlist. :)
Be honest. If you get a super lame song for your first zombie kill....list it!
No skipping! :)
1. Overall theme song:
Big Girl - Mika
2. First kill:
Over the Rainbow - Glee Cast
3. Chased by a horde:
Physical - Olivia Newton-John
4. Kill your loved one:
Face Down - Family Force 5
5. Find a group of survivors:
The Rise of Leo Sunshine - Luke van Hoof
6. Meet a new love interest:
The Leaving Song Part II - AFI
7. Final stand:
No Love - Simple Plan
8. Think you've survived it all:
Come Close - Saosin
9. Discover bite mark:
I've got all this ringing in my ears, and none on my fingers - Fall Out Boy
10. End Credits:
I'm Taking Back What's Mine - Leah Haywood.
May 30th, 2011 at 09:36am