Avenged Sevenfold - Sounding the Seventh Trumpet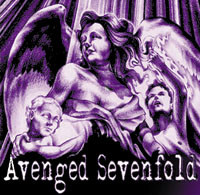 Track Listing
To End The Rapture
Turn The Other Way
Darkness Surrounding
The Art Of Subconscious Illusion
We Come Out At Night
Lips Of Deceit
Warmness On The Soul
An Epic Of Time Wasted
Breaking Their Hold
Forgotten Faces
Thick And Thin
Streets
Shattered By Broken Dreams
All of these songs were written by Avenged Sevenfold, with the exception of track number 12, which was written by M. Shadows.
Sounding the Seventh Trumpet was Avenged Sevenfold's first complete album. This was the only album by the band that didn't feature Johnny Christ on bass guitar. Synyster Gates also hadn't entered the band at this time. The band consisted of: M. Shadows (vocals and melodies), Zacky Vengeance (guitar), Francis Canavan (guitar and back-up vocals), Justin Sane (bass guitar and piano), and The Reverend Tholomew Plague (drums) during this album. There were also screaming contributions by Valary Di Benedetto and The Rev. A track on the album, To End the Rapture was re-released once Synyster Gates joined the band.
This album, Sounding the Seventh Trumpet, was the album that contained the most screaming. You would be hard pressed to find singing. The album was recorded at Westbeach in Hollywood, California. It was then released by Good Life Recordings in the year 2001, but was re-released by Hopeless Records in March of 2002.
The longest track on the album is track 13, Shattered by Broken Dreams, at 7 minutes and 4 seconds. It is then followed by track 2, Turn the Other Way at 5 minutes and 37 seconds. In The Art of Subconscious Illusion you are able to hear screaming done by Valary Di Benedetto and The Rev. This album is purely screaming, but if you don't know Avenged Sevenfold, I would encourage you to listen to this album.
Latest reviews