Fast Times at Barrington High; The Academy Is...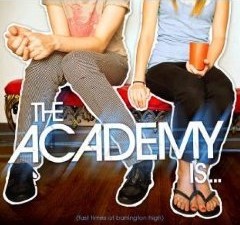 I ripped the first three tracks from "Fast Times" off of The Academy Is…'s MySpace when they appeared on it. I was forbidden from picking "About a Girl" as my favorite, so I settled for "His Girl Friday" before moving onto "Summer Hair = Forever Young".
Today I downloaded the rest of the songs, sans the three bonus tracks. I took a walk around the block with a pack of cigarettes so I wouldn't get sidetracked from listening. I launched into my listening with "The Test". I liked the play on words considering the album title is a high school title, playing on the movie title "Fast Times at Ridgemont High".
"Rumored Nights" and "Automatic Eyes" were also ear-pleasing, but "Crowded Room" was an ear orgasm. The chorus makes it almost an anthem, but the sound keeps it from beginning too much of a Top 40 duplicate, much like the anthems of Simple Plan or Good Charlotte. The beginning of "Coppertone", which followed, was a nice little break after such a raw sound.
While listening to "Coppertone" I was wondering if every song was going to be very upbeat in it's sound, and then "After the Last Midtown Show" began to play. I loved the mention of Midtown (the former band of Cobra Starship's frontman Gabe Saporta) when I downloaded it, and then I fell in love with the song. The lyrics are astounding and the sound is beautiful. I had to refrain from hitting back so I could finish listening to the other tracks.
"Beware! Cougar!" made my eyes pop open with it's opening lyrics, which tie directly with the previous song. The lyrics for Midtown contain these lines: When we met I was on my back/I swear we spent most afternoons/Somewhere in the act. "Cougar" opens with: When I met you, you were on your back/We still spend most afternoons like that/but not for long.
Throughout my listening I wondered if this was an album based on a story. While I'm still not convinced it is in it's entirety, I think the entire album has little stories within it (much like a high school).
The sound has evolved and it has evolved with a bang. This is the first TAI album I have listened to in entirety. I still have yet to finish listening to their previous two records. A good album to me, is an album where you like at least ninety percent of the songs and your favorite track fluctuates for, at least, a few weeks. In the past few days, I have found four favorite songs from this album. (Currently, it's "Midtown".) A good band is a band with songs you like and good sound, but that doesn't necessarily mean they have a "good" album.
TAI fans might not like the idea of a new sound until they hear this album. While you might mourn the loss of Beckett's hair, do not mourn the idea of losing the old song. The new album is still TAI. Beckett's voice can do no wrong and the sounds are still catchy, with catchy lyrics and beats.
In one sentence: TAI has packed a punch with an evolved sound and a new album where every track is a vacation for yours ears.
You will not regret buying or illegally downloading this album.
Latest reviews