All Hope Is Gone? Not In The Slightest.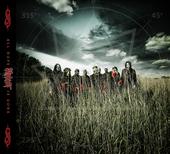 Bad mask puns aside, Slipknot are back at full force, smashing up our eardrums and brandishing what is widely dubbed to be their heaviest album yet. All Hope Is Gone is their fourth studio album (released August 20th), following up Vol. 3 (The Subliminal Verses) just over four years after it was released.
For those not familiar with Slipknot, here's a little introduction, and for those who are, a reminder. The band has nine members in total:
Sid Wilson (turntables)
Joey Jordison (drums, mixing)
Paul Gray (bass)
Chris Fehn (custom percussion, backing vocals)
Jim Root (guitar)
Craig Jones (samples, media)
Shawn Crahan (custom percussion, backing vocals, art direction, photography)
Mick Thomson (guitar)
Corey Taylor (vocals)
Three of those nine are percussionists, and for some that may be a little hard to come to terms with. However, on this album they truly prove their combined talent. They come together to form a barrage of drumming that hits with more force than a thunderclap. Fehn and Crahan have added the use of cymbals and hi-hats for the making of 'All Hope Is Gone', which had never been used in previous work.
The first song of the album, '.execute.' is a mind-bending introduction. Corey's voice is twisted and distorted between screeching guitars, feedback and a rolling drum solo to the point where you may only snatch a few words, though certainly the words 'all hope is gone' can be easily caught at the end.
This leads directly into 'Gematria (The Killing Name)', which is where the real action starts. This thrash-fest is enough to leave your neck aching just listening to it. This, the title track, 'All Hope Is Gone', and 'This Cold Black' are probably the heaviest songs on the album - compromised of only aggressive vocals, aggressive riffs, and aggressive drums - showing that after four years, Slipknot are still a force to be reckoned with.
Vocalist Corey Taylor has said that his lyrics are now more "bitching about what's wrong in life" than about his own life, as in previous work. Percussionist Shawn Crahan said the album was made "by a bunch of crazy guys in their 30s. That doesn't mean we're slowing down or not as intense — our brains are different, so we're bringing different emotions, different feelings and different anxieties to the table now. This record is another diagnosis of our insanity.".
By the time the album reaches 'Psychosocial', it is easy to see why All Hope Is Gone has been called Slipknot's 'heaviest and most aggressive album yet'. The riff of this fantastic song is strong, as close to 'catchy' as thrash metal can be, and is complex enough to flummox avid air-guitarists such as myself. It is also the second single and first video from the album, in which we get to see the new masks the band have, and see them burning their 'egos'. The oversized head masks that resemble a likeness to Corey's new mask - seen in the 'Psychosocial' video and on pictures released as teasers before the new masks and album were revealed - symbolise how their egos have grown since the last album, and the burning of them is the band's way of getting rid of those egos.
Complicated thrash metal guitar riffs and obliterating (and frankly quite stunning) drum beats are a staple of All Hope Is Gone, it seems. The band have also experimented more, adding cymbals from the custom percussionists, more acoustic guitar and noticeably, more melody to songs like 'Snuff', 'Dead Memories' and 'Til We Die' (a bonus track available on the special edition disc). These melodic vocals differ to previous 'softer' releases such as 'Duality', 'Vermilion' and 'Before I Forget' in that Taylor is actually singing. Anyone who has heard a Stone Sour song will already be familiar with Corey's vocal talent, but for anyone who's not heard 'Vermilion Pt. 2', it is certainly a change to hear him sing so tunefully on a Slipknot record - whether it's a good or bad one is up to the listener to decide.
'Gehenna' is a very experimental song, because it is very different to anything heard from Slipknot before. It may bear some resemblance to songs like 'Circle' and even 'Scissors', but has more of a creepy, horror-like feel to it. It is also the longest song on the album, at 6 minutes 53 seconds.
Similarly, 'Snuff' is very interesting, with its acoustic guitar and tuneful, melodic vocals. The heartfelt lyrics of this song, coupled with Corey's extraordinary vocal talent make for a surprisingly beautiful and emotive listening experience; something totally unexpected from Slipknot.
Personally, I think All Hope Is Gone is the best Slipknot album yet. It is certainly more mature, more aggressive, and more experimental than anything I have heard from them before. I would give it an immediate ten out of ten and highly recommend it to anyone, especially those of you that are apprehensive about Slipknot or even thrash metal in general. Consider me faceless.
All Hope Is Gone has reached number 1 on nine international album charts, and Slipknot recently won the Kerrang! Icon award, which I believe is perfectly well-deserved. However, what I don't believe is Taylor's claim about said award (which is very heavy, according to Jim). "It weighs about the same as my c*ck", he told Kerrang!. Sure it does, Corey. Sure it does.
Track Listing
execute. – 1:49
Gematria (The Killing Name) – 6:02
Sulfur' – 4:38
Psychosocial – 4:42
Dead Memories – 4:29
Vendetta - 5:16
Butcher's Hook - 4:15
Gehenna – 6:53
This Cold Black – 4:40
Wherein Lies Continue – 5:37
Snuff – 4:36
All Hope Is Gone – 4:45
Special Edition Bonus Tracks
Child of Burning Time – 5:10
Vermilion Pt. 2(Bloodstone mix) – 3:39
Til We Die – 5:46
Latest reviews