Paramore - Riot!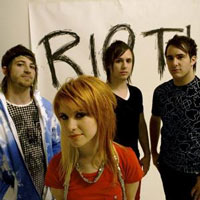 Over the past two years, Paramore, the pop-punk band from Tennessee, has been creating a stir among many teens and young adults with their energy-driven and honest music.
Eighteen-year-old front woman Hayley Williams moved from her hometown of Meridian, Mississippi when she was just thirteen years old to the Nashville suburb of Franklin, Tennessee where she met brothers Zac Farro (drums, age 16) and Josh Farro (guitar, age 19). The three friends enlisted another friend, Jeremy Davis (bass, age 22), sometime after their formation as a band, and the quartet started performing almost immediately.
After just a few months of playing, the band had their first big break in early 2005, when they caught the attention of John Janick, the CEO and co-founder of Fueled By Ramen Records (Fall Out Boy, The Academy Is..., Panic! at the Disco). Janick attended a Taste of Chaos tour concert in Orlando, Florida to see the band perform live and after another performance in a tiny warehouse in April 2005, Janick decided to sign the band to his label.
Shortly after they began to record their first album, All We Know Is Falling, Davis decided to leave the band. The record was released in July 2005 and reached a peak position of number thirty on Billboard's Heatseekers Chart. Paramore was featured on the Shiragirl Stage of the 2005 Warped Tour. Soon, John Hembree replaced Davis on bass guitar. However, after being asked by Hayley, Zac, and Josh, Davis rejoined and Hembree left the band.
June 12, 2007 was a turning point in Paramore's career. Their sophomore album called RIOT! was released and it skyrocketed them into a newfound stardom among the big leagues. The album entered at number twenty on the Billboard Two Hundred, and sold 44,000 copies in the first week.
The first single off of the album, entitled "Misery Business," exudes the raw energy and passion that Williams puts into the music that she writes. The song was based on an actual event in her life that she clearly describes on the band's LiveJournal page. In that same entry, she urges her fans to let out what's bothering them.
"To finally explain my side of the story and feel freed of it all... Well, I was so angry and so happy at the same time. Every word I wrote was like a thousand weights lifted off my shoulders," Williams wrote.
The song "Hallelujah" is one of the oldest song that Paramore has written, but it can also be regarded as a sort of anthem for the album. Williams has remarked that to release it on RIOT! felt like "the perfect home for it" and "a claim to victory" for both themselves and their fans.
The connection with Paramore and their fans is most evident in the soon-to-be-released third single, "Born For This." In early 2007, a contest was held where fans could put their own covers of Paramore's songs on YouTube. The winners were given the opportunity to meet the band and sing background vocals on the song. The exact date of the release is uncertain.
If things keep going as they are, Paramore is sure to be more than just a one day fly-by. It's obvious with one listen of RIOT! that the band has motivation, ambition, dedication, and most of all, staying power.
Latest reviews