Fall Out Boy's Folie à Deux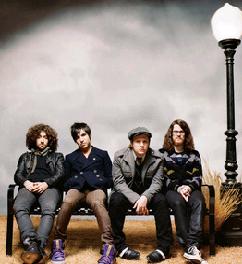 "I don't care what you think, as long as it's about me", said it all. Fall Out Boy is back with their fifth album, entitled Folie à Deux. Folie à Deux, meaning "the madness shared by two" in French, describes the format of the new album perfectly. Each song carries every stage of Fall Out Boy in it. Some have the anger and hopelessness of From Under the Cork Tree; while others carry the slightly more love-filled focus of Take This to Your Grave and Evening Out With your Girlfriend. Some songs even dip into the dance feeling of Infinity on High. Either way, Fall Out Boy has managed to take all of their albums and put them into one- creating one of their best yet.
Folie à Deux begins with Disloyal Order Of Water Buffaloes, singing the popular lines of "so boycott love, detox just to retox." From there, Patrick Stump goes into I Don't Care, the first single off the album. It's been said to be about the way people live today where vanity and material things are of highest importance. She's My Winona is the next song off the track, followed by America's Suithearts, Headfirst Slide into Cooperstown on a Bad Bet, The (Shipped) Gold Standard, and (Coffee's for Closers). America's Suithearts was the second single off the album and has a music video released to go along with it. The video features crazy animations of each of the band members along with other people, including Cassadee Pope from Decaydance's newly signed band, Hey Monday.
After those few songs, Patrick sings you into What a Catch, Donnie; a beautiful song that almost sounds like a goodbye song. It features cameos from some of the other bands on Peter Wentz's label and Elvis Costello. After that you are pushed into 27 and then onto Tiffany Blews. This song features Tyga, an upcoming rap artist singing the verse, "I'm not the boy I was before, I'm just venting, dear gravity, you held me down in this starless city." A very memorable versus in a wonderful song. W.A.M.S is the next song off the CD, followed by 20 Dollar Nose Bleed. 20 Dollar Nose Bleed is a political and personal song in non-glaringly obvious way. It makes references to the war and ex-President Bush; "It feels like 14 carats but no clarity. When I look at the man who would be king. The man who would be king goes to the desert to sing war his dad rehearsed. Came back with flags on coffins and said we won, oh we won." Brendon Urie of Panic at the Disco also appears in this song, assisting vocals on the bridge.
At the very end of the song, Peter goes into a monologue that picks up speed towards the end and then rushes you right into the next and last song - West Coast Smoker. It's heaviest song off the album with more of a rock sound than the others and is the perfect way to end the album. It screams the same theme the older albums had: "Hell yes,, I'm a nervous wreck, the drugs just make me reset." Towards the end of the song, Peter launches into screaming, bringing back a missed essence from the previous albums. There couldn't be a more perfect way to end an album than with this song.
All in all, the album was a even bigger success than their previous, Infinity on High. It combined every aspect that the fans missed and loved to bring one amazing album. It's definitely worth buying.
Latest reviews