Muse: The Resistance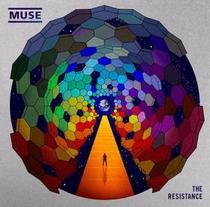 Although the latest album from English rock band Muse, The Resistance, was released back in September of this year, I have only just gotten my hands on a copy of it. Up to this point, I only had the lead single Uprising and song United States of Eurasia to go by, two songs that are drastically different in their style. However, I can now say that this is possibly Muse's most ambitious album they've released to date. Many of the songs feature orchestral instruments, which have been used in Muse's songs before, but not to this extent. Each song on the album is unique and definitely worth an analysis.
1. Uprising
The album opens with this explosive, high energy song. The bass, provided by Chris Wolstenholme, is quite prominent, something that wasn't as evident in the last Muse album, Black Holes & Revelations. Matthew Bellamy's voice is in fine form and the drum work of Dominic Howard is rather simple, but perfect for the song. The bridge of the song, around 3:20 and onward, is my favorite part and the inclusion of hand claps makes it have a definite feel of a stadium anthem.
2. Resistance
The song starts with some eerie sounding keyboards, leading into some piano and drums. This song is probably one of my favorites on the album, although I'm not a huge fan of some of the vocals. Howard's drum work is fantastic, powering along the verses. The chorus is again reminiscent of a stadium anthem and would probably sound fantastic live. The song does seem like it goes on a little too long, with the ending being rather similar to the beginning, but overall, it's a very good tune.
3. Undisclosed Desires
This is the first song where the orchestra really takes an up close role. It is also the first song in Muse's songbook where Matthew Bellamy neither plays guitar or piano. However, his voice and the extra bits in the song keep it from falling flat on it's face. Wolstenholme also plays a beautiful slap bass line, which is rarely ever seen in more "mainstream" music. Lyrically wise, the song is probably one of my favorites. It may be simple but it is a very profound plea to a lover. This song sounds almost nothing like anything like Muse has done before and it's a nice change.
4. United States of Eurasia + Collateral Damage
The only other song besides Uprising that I'd heard before I bought the album, USoE has a definite Queen vibe to it, particularly when it launches from soft piano into the heavier section. The song also has a heavy orchestral and piano presence in it, which makes it definitely a layered song. The end of the song contains another bit called Collateral Damage, which contains parts of Fredric Chopin's piece 'Nocturne in E Flat.' Although the piece is beautiful, it wouldn't have stood out on it's own and it is the perfect way to end such a piano driven song.
5. Guiding Light
The beginning of this song is a little too much for me, with the background keyboards. The bass line and drums work together to create a perfect backbone for the song but are drowned out by the strange buzzing noise that continues for much of the song. After awhile, it just starts to get annoying. However, even after it disappears, the song doesn't seem to have much steam, until the guitar solo that is reminiscent of Brian May. Other than that however, the song doesn't seem really special and is kind of forgettable.
6. Unnatural Selection
The song begins with church style organs and Bellamy's voice before launching into a very fun guitar riff that makes you want to bob your head. This is probably one of my favorite songs when it comes to the delivery of the lyrics themselves. Although Bellamy isn't doing anything really spectacular, they simply sound very jaunty and perfect for the song. The song slows down a little at the three minute mark, which is a definite letdown; I personally would have loved it if it had just gone fast until the end, since the beginning is so high energy. The song never does gain back that energy it had at the beginning, even when things go a little faster near the end.
7. MK Ultra
I have yet to figure out what the title of this song means but it starts off sounding almost like an old school video game, which instantly intrigued me. The song starts off slow but at about 2:10, the listener is suddenly hit by a breakdown quite similar to some of the live performances on H.A.A.R.P. The riff only lasts a few seconds and I know that I was dying for it to come back. Thankfully it does, as a truly epic way to end the song. The song is probably one of the more forgettable ones but it is still a good listen.
8. I Belong to You + Mon Coeur S'Ouvre A Ta Voix)
Easily one of the most different tracks on the album. The song starts with a jaunty piano riff that might just remind you of a jazz tune; if that doesn't, the distorted bass in the background might seal the deal. The lyrics of the song are definitely not it's strong suit; in fact, they're rather cheesy, if I do say so myself. Suddenly, the song switches tracks and turns into a French ballad, where Bellamy shows that he can sing beautifully in whatever language he chooses. Lyrically wise, I'm reminded of Unintended from the first album but nevertheless, this is a cute song.
9,10 &11. The Exogenesis Symphony
This was what we were all waiting for, the so-called epic symphony that Matthew Bellamy had been promising would be on the album, after sporadically working on it for many years. And truly, it is epic. It takes a talented man to write a good symphony and Bellamy succeeded. All three parts of the piece are truly beautiful and the traditional band instruments are used fairly sparsely, not overwhelming the orchestra itself. Part 1, Overture, flows perfectly into Part 2, Cross-Pollination, which is dominated by Bellamy's talented piano playing. If you're listening to the CD, chances are you might not even notice that it's a different track; the parts flow together that well. The third part and final track on the CD, Redemption, is probably the prettiest and a beautiful note to end the album on.
Although this album may not be one of Muse's more accessible ones, it is definitely their most experimental one. Some listeners may be put off by that fact, preferring Muse's more "traditional" songs, but this album overall is still probably one of the best and most unique released this year. In an industry dominated by pop rock that all sounds the exact same, Muse is a talent that aren't afraid to mix things up a little, whether it be by including a gong or recording in a bathroom. If you get the chance to pick up the album with the special DVD, do so. Although it doesn't give a whole lot of new information, fans will nonetheless find it entertaining. I wish I could have picked up the album sooner but it was definitely worth the wait.
Latest reviews