Love Never Dies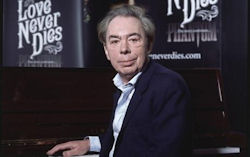 The Phantom Of The Opera was originally written by French author Gaston Leroux, but in 1986, Andrew Lloyd Webber brought it to life as a broadway musical, starring Sarah Brightman and Michael Crawford.
Now, in it's 24th year, there have been over 9500 appearances of it in London alone, and it is also well known for the (2004) film version starring Gerard Butler and Emmy Rossum.
But musical composer Andrew Lloyd Webber, who originally composed the music for the broadway version and the film, couldn't leave the story alone. Many attempts to continue the plotline of The Phantom seemed impossible, but working with 80's comedian and author, Ben Elton, the story of Love Never Dies became unravelled.
Love Never Dies sees a progression of The Phantom of years later, when the lead female character, Christine Daaé, goes to America to sing, unaware that the arrangements have been set up by the owner of the Opera House ['Phantasma']' - Mr Y. Or, as is later obvious: The Phantom. Several new characters are introduced, including Christine's son, Gustave.
But will the show live up to the incredibly high standards of the original Phantom? Lloyd-Webber replies;
'There is pressure. I can't tell you whether Love Never Dies is of its time, because it ain't Legally Blonde or Hairspray. All I can say is that I think the story is strong and the lyrics are the best I've had since Tim [Rice]'
Lloyd-Webber describes the music as 'rock masquerading as Opera', and says 'The passions in Love Never Dies are rock passions'.
Lukewarm reviews are mixed with die-hard awe from the 'Phans', but either way, Love Never Dies is sure to recieve an overwhelming reaction.
Latest reviews