Avenged Sevenfold - Nightmare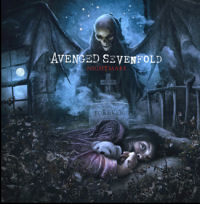 Avenged Sevenfold is now four guys trying to cope with the death of their best friend, their brother, Jimmy Sullivan. But they have managed to somehow come together after the tragic event and bring to us, their fans, an amazing album. It brings together elements from their older albums as well as their latest and throws it into one big package called Nightmare. Presented with ghostly artwork, as well as tributes to The Rev, this is one CD worth buying. Trust me; it won't come out of your stereo.
Now, everyone has heard their first single Nightmare and we are all addicted to the catchy chorus and everything else about this wicked song. Whether it be Syn's shredding solo or Shadow's insane laugh at the end of it or his powerful vocals, everything rocks in this song. It was an excellent choice for an album teaser and a first single. The structure to this song reminds me of Afterlife off their self-titled album, but I still love this song.
Then we move on to Welcome To The Family. It has yet another catchy tune in it, with the "Welcome to the family" in the verse and a great chorus with good emotion. I find every lyric to be inspiring in some way, and The Rev's psychotic whispering throughout the song puts the final touches on it. I know this song will make a good second single and capture the attention of a lot of people.
Danger Line is next, another emotional song about war. The trumpet in this song is a bit strange for Avenged Sevenfold, but at least they are trying something different, and I feel like it works in this song. It helps, alongside the piano, to exaggerate the emotion in the vocals, and the solo following it continues on the sad vibe. To add another different element, the song ends with the solo being whistled, the drums fading out with the piano. It tones it down and lets the despair sink in as we think about war.
On to one of my favourites, Buried Alive. The intro is so beautiful. The work Syn does on his guitar is amazing, and this has to be one of my favourite pieces. He sets the mood for the upsetting lyrics that follow. Once again, strong emotions are conveyed and the band did a great job on this song. I love the part in the middle right after the great solo has finished. It picks up the pace of the song and is catchy while still having attitude. I love this song. Buried Alive is definitely one of the better songs off the album.
Next is Natural Born Killer. To me, this song doesn't stand out like the preceding song. It seems a bit hectic with its fast pace, repetition, and it's not as emotional lyrics. I'm sure I'll grow to like it soon enough, but it hasn't yet captured my heart.
Then we come to So Far Away, the song that Synyster Gates wrote about The Rev's death. He is one talented musician, because this is another of my favourites. It is a soft, sad yet loving song, and I'm sure he's captured his emotions perfectly. This will make a great third single for the band, and I really can't wait to see the video for it. The acoustic aspect to it makes it more personal and for those who loved The Rev, you'll be crying during this song once you connect with the lyrics. All in all, a beautiful song, and I'm sure The Rev would be proud. It's such a shame that it took his death for Syn to write like this.
God Hates Us is a typical metal thrashing song. The chorus is great; every fan will love screaming "God save us, God save us all, God hates us, God hates us all" to this track, as well as "Total nightmare!" To me, it seems like a song they have dug out from the past, but it screams Avenged Sevenfold, which I love. In the booklet that comes with the CD, we have reached the middle, and there is a picture of the four remaining men (Johnny Christ, M Shadows, Zacky Vengeance and Synyster Gates) drinking at a bar looking pretty depressed, while the opposite side has an artistic drawing of the skeletons of them and The Rev drinking, and for those who it applies to, smoking, at a table with everyone smiling and having fun. I think this is great, and it really shows new fans how much he will be missed.
Victim comes next, starting with an interesting intro and it is extremely emotional. It has a nice slow beat and is the second longest song on the album. There is fantastic work on the solo and vocals, as always with this album. The lyrics will without a doubt evoke a response out of everyone as once again we begin to think about death and the loss of someone who we love.
Now we have Tonight The World Dies, which is another one that just doesn't quite stand out. It's the shortest song on the album, seems a bit too slow and not quite Avenged Sevenfold in my opinion. I think they could have done a lot more with this song, as I feel it at the end it shows it has potential for something more.
And next is Fiction, which was instantly a favourite simply because it is The Rev's last piece of work. But that aside, it is a brilliant song; the piano is catchy, yet beautiful, and the vocals are touching (especially Shadows' impression of his best friend near the end of the song). He writes about his death, as if he knew it was coming, and he tells his band members to move on and that he knows they will be okay without him. These lyrics will definitely get tears out of Rev fans, especially when you hear him singing for the last time ever. I know this song will bring closure to a lot of people, including myself. It truly is a great song.
The album ends with Save Me, the longest song on the album. In my opinion, it seems to drag on quite a bit and I often find myself wanting to rewind back to Fiction because Save Me just can't top it off for me. I will admit I do like the guitar work in it and the lyrics aren't too bad. I just can't seem to sit through its long intro, but when I do it's not a bad song. Once again, I think this one just has to grow on me as I listen to it more, but I think I will always believe that Fiction should have ended the album.
As you turn the page, there is a good portrait of Jimmy with a broken keyboard as a frame for the bottom half of the picture with "Fiction" written on his top. Across the page there are the thank you's and I love the sincere words dedicated to The Rev and also the thanks to their fill-in drummer Mike Portnoy, who did a good job on the album too.
All in all, it is a great album and I haven't been able to stop listening to it. I'm sure Jimmy would be proud. RIP Jimmy "The Rev" Sullivan. Your last pieces of work are being greatly enjoyed by me, and other fans across the world.
Latest reviews