Icon For Hire - Scripted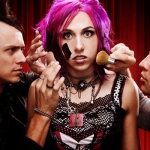 Icon For Hire, somewhat but not quite a Christian band, previously released two EPs - Icon For Hire in 2008, and The Grey in 2009. Both were very well crafted, but can not compare to the band's debut album, Scripted. With Ariel Bloomer on vocals, Shawn Jump on guitar, Adam Kronshagen on drums, and Josh Kincheloe on bass, the band put together a fabulous album that can not be beat.
The Track List
Overture/Theatre
Make a Move
Get Well
The Grey
Off With Her Head
Fight
Up In Flames
Iodine
Only a Memory
Pieces
Track One: Overture/Theatre
10/10 - This song starts off with a 29 second introduction, then slams into some serious business. "I wanna live like I lost the script, and sing every line like this is it." The lyrics compare life to a theater. The point to the song is to encourage being yourself, and living each moment like it's your last; not being afraid to say what you want, do what you want, and be who you want.
Track Two: Make a Move
9/10 - This track was the first single off the album, and a great choice it was. It's fun to rock to, and it's relatable. It's mostly about being afraid to be the first step up and do your part, and begging for someone else to make the change that you're afraid to make.
Track Three: Get Well
9.5/10 - This song is probably my favorite from the album. This song is about begging for attention, and then being sick of the same old routine, sick of living in your own self-pity. The choice is then made to stop living in your own misery, and making an effort to feel better.
Track Four: The Grey
10/10 - This isn't quite a ballad, but it definitely slows things down. Taken off of The Grey EP and reworked a tad, this song has become a raw image of personal numbness to the world around you. And then, in the bridge, you hear the words "In your deepest pain, in your weakest hour, in your darkest night, you are lovely." Since all the members of this band are Christians, in can only be assumed that the lyrics are about God.
Track Five: Off With Her Head
7/10 - This song comes off of the Icon For Hire EP, and one of the more Christian-related songs off the album. In the chorus repeatedly is "Don't let go, don't let go, Savior." This song is more of a plea for forgiveness and help than anything. The instrumentals and lyrics make this song a great listen, but it wasn't my favorite.
Track Six: Fight
10/10 - "I don't know how I got here, but I refuse to stay" are the opening lyrics of this song. This song is an inspiration, and another favorite from this album. It's about fighting, even when you're losing your strength, because you've come too far to let anyone take you down. It's usually played as an encore at the shows, because of the echoing "Fight!" in the chorus. It's fun to headbang to, and definitely worth listening to.
Track Seven: Up In Flames
5/10 - This song has more of a pop-rock beat to it; something you can definitely dance to. The opening lyrics are Linkin Park-ish and very much fast paced. It's an alright song, but it isn't my favorite.
Track Eight: Iodine
9.5/10 - The opening verses are deeply impacting, and very much fun to rock to. But the chorus seems to slow down a bit, and that's my only complaint about this song. It's mostly about wanting to get well, and then going back and making the same mistake again.
Track Nine: Only a Memory
10/10 - This track was originally "Pernilla" from the Icon For Hire EP. The lyrics were rewritten a little differently, and screaming parts were removed from the first verse. Now a slow song, it's raw and very heart-wrenching. The lyrics portray a girl who refuses to let someone who has destroyed her own her life, and she's finally saying goodbye to him.
Track Ten: Pieces
10/10 - This song is about someone who, over and over again, tries to make people feel sorry for her. Then, she wants to go back and fix all that she's messed up, but not wanting to put forth the effort to try. In the chorus, it says "the pieces won't pick up themselves, you know." It's halfway on the slow side, but it's still rock-ish enough to be the perfect closing of this album.
Over all, I give this album a 5/5. There was a perfect amount of lyrics, guitar riffs, and drum beats that made the album 100% worth buying.
Latest reviews