The Ropes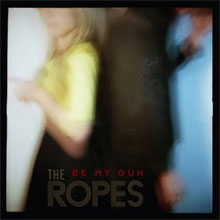 The Ropes are an up and coming indie band, hailing from New York. The band consists of singer and bassist Sharon Shy, and multi-instrumentalist, Toppy. Their sound can only be described as unique. Combine rock cords, the steady beat of low drums, deep lyrics, and haunting vocals and you have The Ropes. Sharon's lyrics are deep and the meaning of them intensifies after listening to them many times. The lyrics are dark, yet very relate able.
They've toured throughout the United States and United Kingdom. Also, they've opened up for bands like The Used, The Matches, and Innerpartysystem. Recently, their album has debuted in Japan.
The band has two EP's, Cry To The Beat and Be My Gun. Their studio album is titled What They Do For Fun. The album was produced by Nic Hard (who produced albums for The Bravery and Church) and Toppy. The album has twelve songs, all of which combine the glamorous pop of the eighties and nineties rock.
USA Weekly calls The Ropes' song I Don't Like To Get Dirty "NSFW." NSWF stands for not safe for work, the label of which is usually given to celebrities such as Lindsey Lohan misbehaving. On their website, the band states they are proud to be the audio version of such. Allan Reible, music critic, named What They Do For Fun as number fifteen of 2008's top fifty best albums. And in my opinion, The Ropes' brilliant tracks are art for your ears. No matter how many times you listen to them, you can always get something new from their songs.
The Rope's are a rare find among a music industry filled with bands that sound the same. It's only a matter of time until the duo is recognized for their outstanding music and get the recognition they deserve.
Latest reviews