David Garrett: Classical Rockstar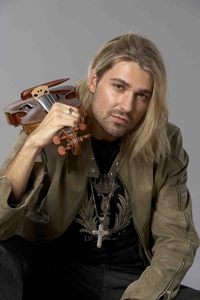 David Garrett was born to a German Jurist and an American Prima Ballerina twenty nine years ago. At the age of four he was given his first Violin, by the age of ten he first appeared in the Hamburg Philharmonics. At the age of thirteen he was the youngest artist to be awarded the Deutsche Grammophon Gesellschaft. By the turn of the century David enrolled at Julliard, studying there for the next four years.
Like most classical musicians who take this path, David studied composistion. But what sets David apart from the rest is his love for Rock N' Roll. Influanced by U2's rift in "Vertigo" and the Oldies band The Four Seasons. Taking his love for Rock N' Roll and his love of Classic music he has combined the two.
His newly released album Rock Symphonies covers songs from Led Zeppelin's "Kashmir" to Aerosmith's "Walk This Way" to Nirvana's "Smells Like Teen Spirit" to Metallica's "Master of Puppets" to "Live and Let Die" by Guns N' Roses, among many others. Even adding some Rock to classical pieces such as Beethoven's Fifth symphony.
While his last album was similar covering Michael Jackson's "Smooth Criminal" and ACDC's "Thunderstruck" to Bill Whithers "Aint No Sunshine" to Josh Groban's "You Raise Me Up" while the rest of his album is composed of amazing symphonies, even a cover of the Disney's film Pirates of the Caribbean song "He's a Pirate".
Having released many other albums that walked the classical side of Music, David has made the amazing transition into the world of Rock. Taking a group of String instruments, keyboard, and guitars and very few spoken words, he truly lets the music speak for itself.
David Garrett said in his Tuesday morning interview on Good Morning America that you will see people from the age of four to eighty at one of his concerts. Everyone can enjoy the music no matter what age.
When you listen to these albums you will find yourself singing along with the violin and the familiar tune of classic Rock songs we all grew up with. With this artist you can put his music on, sit back, relax and lose yourself in the flow of the music. Listen to it while driving, reading, sunbathing or even writing and you will find yourself awed and inspired. I know I cannot wait to see more from this amazing violinist.
Rock Symphony is availble in the US and Canada on Amazon.com, will be availble in Germany on October first. All other albums are availble through Amzaon.com. Go to www.david-garrett.com for more information on his albums and tours.
Latest reviews