Max Green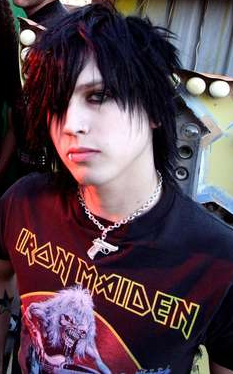 Max Green is the bassist of the band Escape the Fate. Recently, he has been going through a lot and some rumors have been spreading. I'm here to clear up some of those rumors and to tell you about some other things
"Max is a druggie ok.. he went into rehab."
Max has admitted to doing drugs for six years, it doesn't mean you have to rub it in. It's probably something hard to remember for the person who has done drugs, so it's not appropriate or nice to say remarks like he is a druggie. Yes, Max entered rehab on a thirty day treatment. Afterwards, he said he wanted to continue with his band to go on their headlining tour for their new self-titled album. The tour was named The Dead Masquerade Tour, and has the following bands touring with them: Get Scared, Drive A, Motionless in White, and Alesana. Max said it will keep his mind off of the drugs and keep him busy. Also, he has his friends, like Craig Mabbitt, to support him.
"Max passed out on stage... It was from drugs and drug withdrawl not dehydration."
It was from dehydration. Max did have drug withdrawl but it was about three months before this happened. He also had a cold, and a possible flu from one of the band members in Get Scared. When and how did it happen? During their song The Aftermath (G3) Max started to lose balance. One of the people who worked back stage noticed and went up to him. Probably asked whats wrong, then, he began to fall back. But luckily the backstage worker helped him down gently. Afterwards, they carried him to the back of the stage. The band kept playing. To some people this seemed rude, but they didn't want to cause the audience to become upset. After about five minutes Max was begging to go back on stage (this was after he came to). They said no. They took him to the hospital and put him on an IV. Later, he was released and started posting pictures on twitter saying that he was back. He was as lively as ever.
"Max left Escape the Fate!"
Despite all these rumors, no, he DIDN'T. He left the tour for a little while after he had passed out. He decided he needed some rest. And personally, I think he does too. People who complain cause now they can't see him in a show, grow up. Honestly, it's none of your business. And if your a fan you will understand. Max does so much for his fans, let's let him rest for awhile. He very well deserves it.
Latest reviews