Boy Meets Girl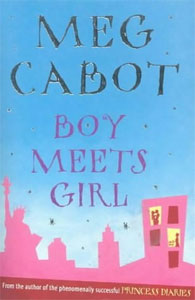 "A book told entirely by email and scraps of paper? - Surely not!" But yes. Boy Meets Girl, by Meg Cabot certainly is a book told entirely through emails, voice mails, IMs, even notes scrawled on menus. No description to be seen! This format, involving no description whatsoever may not appeal to some readers, however, you may be pleasantly surprised.
Those who are familiar with Cabot's The Guy Next Door may recognize a few of the characters (I personally haven't read it yet, but have heard from others who have read the book) and the setting, however, a whole new plot line is developed in this book.
Kate Mackenzie and Jen Sadler are best friends, and have been since college. Jen is happily married but desperately trying to have a child, whereas Kate has just split from her boyfriend-of-ten-years and is looking for new love. They both work together in the Human Resources division of the NY Journal, under the watchful eye of their boss, Amy (also known as the T.O.D. - Tyrannical Office Despot). Amy has forced Kate to fire Ida Lopez, a much loved "cookie lady", for refusing to serve dessert to a man she deemed "unworthy" of her food. However, the twist comes when it is revealed that Amy's fiance, corporate lawyer Stuart Hertz, was that one she refused to serve dessert to. Ida files for wrongful termination, and Stuart's firm is representing to company. Enter handsome hero Mitch Hertzog, Stuart's brother and representative of the company in court.
Despite having no description, I found the characters very lovable and the book exceptionally easy to get into. I accidentally woke my brother by laughing too loudly whilst reading at night, but I didn't care. The plotline was very easy to follow, and you found yourself wanting to keep going, and willing for the right outcome at the end of the book.
Anyone who enjoys reading chick-lit will adore this book.
5/5.
Latest reviews