The King's Buccaneer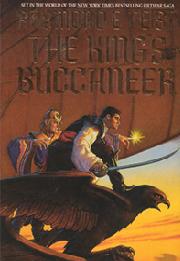 Set roughly ten years after Borric and Erland's trip to Great Kesh in Prince of the Blood, Feist takes the reader on another adventure to Midkemia, this time following the character of Nicholas, youngest child of Prince Arutha and Princess Anita.
Nicholas was always protected by his parents, due to his gentle nature and deformed foot, which caused him a lifetime of bullying from his siblings and members of nobility, Arutha feeling Nicholas has been protected for too long thanks to the soft, regal life of Krondor sends his son and his squire Harry to the home of his childhood, Crydee, to live the rough frontier lifestyle under the watchful eye of Martin, Duke of Crydee.
However, being forced to play squire for Martin and his bullying son, Marcus, is far from what Nicholas and Harry expected and after a month of running around doing errands and competing for the attentions of Margaret, Martin's daughter and Abigail, daughter of the Baron of Carse, things take a turn from the ordinary as the Far Coast is raided by an unlikely band of foes.
With Margaret, Abigail and hundreds of others enslaved and being transported to a continent on the other side of the world Nicholas, Harry, Marcus, young magician Anthony, Calis and familiar characters such as Nakor, Ghuda and Amos Trask pursue the slavers to Novindus where they discover a sinister plot to destroy the Kingdom.
The King's Buccaneer is an amazing story filled with magic, adventure, mystery and moments of despair. It's definitely one of the better books of the Riftwar cycle.
Latest reviews