Ballads Of Suburbia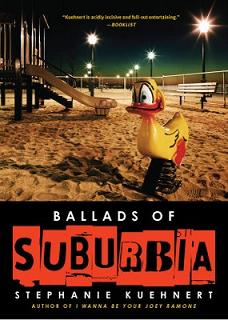 Four years has passed since Kara left Oak Park after a heroin overdose nearly killed her. When she comes back she's faced with the high school memories which changed and shaped her life forever: the collapse of her family, the drama, the booze and the bad boy Adrian who left her to die.
The book isn't an easy read. It's full of hard hitting issues such as drugs, cutting, abuse and suicide - but once you start reading you won't want to stop. Kuehnert does an amazing job creating well rounded characters and believable situations.
The painful experiences of these high schoolers rings true as they slip down the path of self destruction. Many readers can connect to the yearning to belong, the heartbreak of losing a close friend and being lost when those you thought you could trust betray you.
Kara and her gang have a notebook titled Ballads of Suburbia filled with the heartbreaking and honest confessions of that define their young lives. Though Kara is the main narrator, every few chapters is one of the Ballads told in that character's voice. They explain the character's bizarre and sometimes questionable choices at an unexpected depth. You can't help but feel sorry.
Music plays a part in the book, too. Lyrics from bands such as the Smashing Pumpkins, Nirvana, the Ramones, Rancid and even Johnny Cash start off each section and Ballad. They add to the plot and give insight to the character's personalities. The true meaning behind 'ballad' bonds characters together and fuels the idea of a Ballad of Suburbia script the gang works on - newspaper articles of death and crime through American Suburbia.
While most of the book is dark, the ending leaves some hope in its readers for Kara and the others. There are only two books that have made me cry and this is one of them. Maybe because I saw myself in many of the characters or maybe the events that folded out were upsetting. Maybe both. In either instance the book is absolutely amazing.
Even if you're not into punk rock or don't live in American Suburbia, the book can touch your life. The situations may not happen in your life, but Kuehnert writes it in such a way the emotions will reflect any teenager.
Latest reviews