Carrie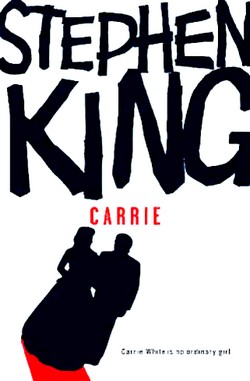 Carrie, published in 1974, was the first of Stephen King's novels to be published. King has often told the story of how he wrote the novel while living in a trailer in his home state of Maine. His story could have ended with Carrie being thrown away after just three pages, if it hadn't been for the intervention of his wife, fellow novelist Tabitha Kind, to whom the book is dedicated.
The novel follows the story of Carrietta 'Carrie' White, a high school outcast living in what has been described as a reverse Cinderella story. Carrie is an unfortunate protagonist, raised solely by her strict Christian mother, a character that bullies her daughter at the best of times. Predictably, Carrie's home life reflects her school life, where she's the clichéd but likeable outcast. The plot of the novel is based around Carrie's telekinetic powers, how she tries to control them, what happens when the pressure of her desperate life finally starts to suffocate her, and what happens when a tortured teenager with supernatural powers decides that enough is enough. The details of the story are well known, heavily due to the 1976 film adaptation of the novel starring Sissy Spacek in the title role.
The narration of the story is different to most novels, told using snapshots of fictional articles and letters. Though this use of epistolary in literature is nothing new, this was one of the few novels of this type I have read. It made for a refreshing change.
As it stands, I really had no intention of reading Carrie, having already learned the plot years ago from a friend. I only read the novel after my father and I discussed Stephen King films and he chose to buy me Carrie as a present . Carrie is far from the best novel I have read, in fact, I have read many that exceed it in terms of plot and length (being under 300 pages, Carrie took me little over half an hour to read) yet, I have also read a lot worse.
I'd recommend Carrie, not because 'Oh wow, this is an amazing novel everyone should read,' but because its better than average if not a little predictable, and it's quick to finish. More importantly, it's a good waste of an hour (depending on reading speed of course) and I'm one of those people who believes everyone should try to read as many books as possible.
Latest reviews