The Drifting Classroom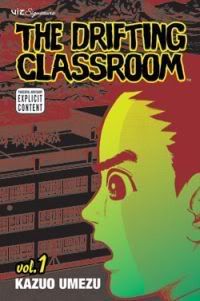 The Drifting Classroom is a very engrossing horror manga series by manga author and artist Kazuo Umezu. It spans 11 volumes and like classic manga format, reads from right-to-left.
The story follows an 11 year old boy named Sho Ishikawa and what happens when one day his school disappears in the middle of a massive earthquake. Sho and his classmates soon find themselves transported to some strange distant land that is devoid of all water and vegitation. While the schools faculty and other school grades have been transported with them, they soon realize that even the adults can fall victim to panic and fear. No one is safe, and when one tragedy seems averted, a new one arises casting doubt upon their survival.
Unlike most stories that have a centric antagonist, this story has various ones that constantly change and are relatively realistic survival issues. Food, water, shelter, protection for any hostile elements in the strange land. Children turn on children, the faculty loses control, people and students are murdered and die, and the enviroment itself harbors new and terrifying enemies.
I bought this series piecemeal online, and when I finished a volume, I'd find myself in front of my computer again, ordering another volume. Then I was ordering them by twos, having to get through the series to see what happened next to Sho and his classmates. Gripping, suspenseful, frightening, and utterly disturbing, this series really impressed me and now I display it proudly in my private library on the "Art" portions of my bookshelves next to "GYO" and "Blade of the Immortal".
You'll be instantly drawn into the story, for each character is well developed and you get to know them by name. Like I said, this is a violent manga and if you are easily disturbed by graphic violent images especially involving schoolchildren, then this isn't for you. Whether it's an abusive adult, a gigantic carnivorous centipede, to lack of food and water, to even mutinies in the student population, this story pulls you in and refuses to let you go.
Latest reviews