The Final Riot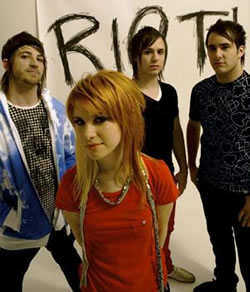 It starts off simple, the stage, and then a light comes up and you see Josh Farro of Paramore, strumming away on the guitar starting off the intro to the first song of the night. As he continues, Taylor York joins in on the rhythm guitar, followed by Josh's brother Zack on the bass, Geremy on the drums, and then finally, Hayley comes out to the loud response of screams, and starts off Born For This by screaming "CHICAGO!"
The Final Riot! CD/DVD was filmed/recorded in Chicago in front of a wild and willing crowd. It is Paramore's first CD/DVD combo and is excellently executed. The DVD shows the concert with side clips about the making of the album RIOT!, the excitement of going gold, and talking with the band what it's like to be on tour/what it's like to have a girl on tour/what it's like being the only girl on a tour bus. The CD has the track listing:
Born For This
That's What you Get
Here We Go Again
Fences
Crushcrushcrush
Let The Flames Begin
When It Rains
My Heart
Decoy
Pressure
For A Pessimist, I'm Pretty Optimistic
We Are Broken
Emergency
Hallelujah
Misery Business
The CD itself is jambed back with hair raising screams and - when at the appropriate level - sounds wicked sweet in a car. The tracks are each unique, and there are bonus songs such as My Heart, and Decoy. There are fun introductions of everyone's favorite songs such as the introduction of Hallelujah which Paramore used the song Hallelujah by Leonard Cohen - most people would know this song from the 2001 movie Shrek.
Hayley Williams and the rest of Paramore are absolutely fantastic and the entire thing is a must have for any Paramore fan. I give this a 5/5 for just being absolutely amazing. As stated before it's a must have for any Paramore fan.
Latest reviews