Viva La Bam - Season 5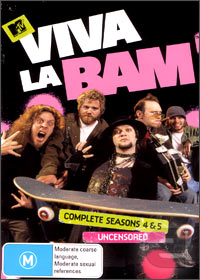 Viva La Bam, season five. Personally, I found this season to be the best of them all. I'm not sure why, but there was something outstanding about this dvd that just caught my attention from the others.
My favourite episodes of the season included:
Viva La Brazil: This was pure brilliance. While Bam ventured through Brazil (or what Don Vito calls The Bahamas) Dico is left home with Phil and Ape to give them their own Brazilian experience, everything from the waterfalls to the rainforest. I laughed at almost every part of this episode, especially when the sand sculpture of Don Vito was made (lazy eye included) then smashed, leaving Vito left to be misunderstood without the trusty subtitles.
April's Birthday Surprise: We see a lighter side of Bam Margera as he tries to give his mother a perfect birthday by using the pictures of her younger years from Phil's birthday gift to her. He buys her a horse, a car just like her old one (very un-tasteful, then makes her drive it to art class) then he gives her a not-so-good surprise. He comes across a picture of Don Vito naked on a motorcycle, then decides to hire him in for the live nude model for her art class. In the end, though, Ape was overjoyed when Bam arranged it (with the result of him and Billy Idol cutting a hole in the room of the lambo) so that Ape was brought on stage during the Billy Idol concert, and wished a happy birthday from Billy himself.
Vito's Revenge: You can't get any better than this. Don Vito, equipped with Mike Vallely, himself, plots to get revenge from every single prank that Bam has ever pulled on Vito. In the end though, the best man wins, though they suckered through a rough fight.
Limo vs Lambo: I'm not going to give much away for this one, because it was excellent from the beginning when Bam was drag racing and put a sheet over the garage door to make it look like it was open, causing Dico and his Limo to crash into the closed door, result in the challenge of the episode.
Where's Vito?: Don Vito finally gets revenge on Bam. Him and Dico flee away with Bams' hummer, (Dico not knowing anything about it because he was left in the back of the hummer asleep when Vito stole it) but in the end, Vito finally does get his revenge and at the same time gaining a small ounce of respect from Bam. A very small ounce.
Other episodes include: Metal Mulisha, Bam On The River, and finally, Finlandia.
If you're looking for a good laugh, this is the series to check out.
Latest reviews