Voliminal: Inside The Nine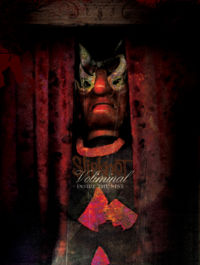 With the release of Voliminal, the band's third DVD package, fans get to see a taste of how life on the road is for Slipknot.
The movie was filmed over a span of twenty-eight months, during which the band traveled to thirty-four countries and played two hundred and thirty three shows. This is an amazing feat, which most people would consider close to impossible. But as you watch Voliminal, you realize that for Slipknot, it was merely chaotic.
The first disc of two contains an eighty minute documentary of the band's touring life for two years. But this is definitely not like anything you've ever seen. The movie is shot almost entirely using hand held cameras and is arranged in no specific chronological order. There are a few recurring themes; the man in the shark mask and the drunken exploits of one crew member, but you never see anything in its entirety.
The content itself varies from the obscene to the truly bizarre. An example from the latter category would be when the screen unexpectedly shows nothing but maggots squirming around while in the background, the band talks about the "smell of death." Quite a bit of the footage focuses on the band however, so squeamish viewers need not worry.
Some fans may not be able to watch the first part in one sitting but if you do, you are presented with a fascinating journey of the chaos that goes on behind the scenes of one of the world's biggest bands.
The second disc is where your typical material is; interviews, videos, live footage. Every member of the band is interviewed unmasked, and this is where you really learn how the mechanics of Slipknot works. The members are all very entertaining and very different. The topics run the gamut, from the masks the band wear while performing, golf, masturbating, the fans… nothing is off limit.
Another impressive thing about the interviews are the camera angles used. The camera doesn't focus on just the band member's faces; at some point, it may break off to zoom in on their sunglasses or the cigarette they are holding.
Watching this band perform onstage truly is an amazing experience. Nine people are a lot to have on a stage at the same time, and Slipknot pull it off flawlessly, complete with synchronized head banging. There are nine performances on the second disc, with "The Blister Exists," and "Pulse of The Maggots," being two in particular that really stand out. There are also five music videos; "Duality," "Vermillion," "Vermillion Pt. 2," "Before I Forget," and "The Nameless," the last being a compilation of live footage.
When it comes down to it, Slipknot is really just nine ordinary middle aged men who just so happen to lead extraordinary lives. And this DVD lets you realize just how amazing their lives are.
Latest reviews