The Sims 3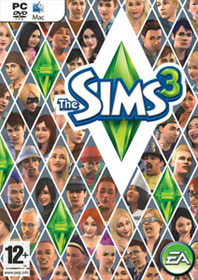 I've been playing this game for a number of years, and never had I been this excited about the game. The game has things for everyone to enjoy whether your life is horrible and you want to make someone else's life horrible/good or vice versa, you love to build houses, you like to kill people, et cetera. There are some great features in the Sims 3, such as the Create-A-Sim and Create-A-Style Mode, the great Open-Ended Neighborhood, Trait system, and much more.
My favorite thing in the game is the Create-A-Style mode. It is so easy and it is so nice to be able to change different things, especially the color choices of guys stuff (because most of the time I don't like them). Basically you pick an outfit you like and then you change it. Using the design of other objects, then you can keep it the color of that object or change it with the extensive color palette they provide for you.
The Create-A-Sim mode has never been so enormous. I love the hair tools. You can go in with the hair tool and change the roots, base, highlights, and tips of your Sims hair, or you can just stick with the hair colors they give you if you like a simple Sim. You can use the Create-A-Style feature I mentioned above to change the outfits if you don't like the presets they give you. One other big thing with clothes is the ability to change the shoes your Sim wears, you no longer have to wear what shoes the game tells you to.
The trait system, while apart of the Create-A-Sim mode, I think it deserves a paragraph of its own. It is so amazing. Not only do they define who your Sim and what they do by themselves, the traits all have something that is special to that trait, whether it's a social interaction or an interaction with an object. Example Kleptomaniac Sims can steal from other people and Flirty Sims can give great massages.
The Open-Ended Neighborhood makes it much easier to be social or go places. You can look around the neighborhood using Map View, and you can also zoom in on certain places to see what's going on there. Then if something important is going on or you just want to take your Sim there you can zoom back out click on the building and tell your Sim to do one of the interactions provided. The open ended neighborhood makes it much easier to talk to your neighbors as you can just go there by clicking on their house and choosing one of the interactions.
There are many different skills you can learn on The Sims 3, these include Athletic, Charisma, Cooking, Fishing, Gardening, Guitar, Handiness, Logic, Painting, and Writing. Each skill has a different place where you can take that class. You can take writing classes at the Business/Journalism Office and you can learn guitar at the Theatre.
With The Sims 3 it has never been easier to find a job. Since you are no longer limited to going through the newspaper or computer, you have no excuse to wait for the job of your dreams to be advertised there (although you can still get a job through the newspaper or computer). You can go to the building where that job is offered to get that job, such as the culinary career track is offered at the Bistro or that Criminal job you wanted is offered at the Criminal Warehouse. You also have your part time job; these are offered at pretty much anywhere you can't find a regular full time job at. Part time jobs are easy if you want your Sim to work but don't want working to become the only thing they do. Part time jobs last about three hours a day and take place five days a week. You can earn some pocket change if you stay at it, you can even be promoted using this job. So you can get a part time job at the Day Spa or the Bookstore, along with many other places.
There are many more features in The Sims 3, those are just my favorites. Hope you enjoy your new The Sims 3 game. Happy Simming!
Latest reviews