Batman: Arkham City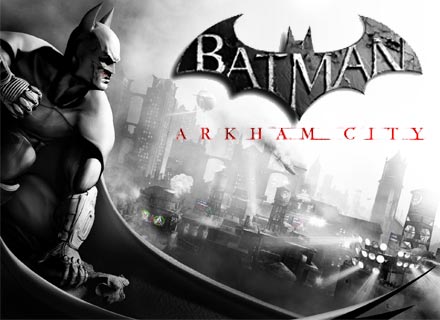 Bruce Wayne knows exactly how to juggle pretty ladies and a secret life as a vigilante really well, so it's only necessary that the guy gets a sequel! After 'Arkham Asylum', a lot of people had high hopes that maybe, just maybe, DC finally knew what they were doing in the video game making industry. I can't exactly say the same for Superman...but let's concentrate on Batman here.
The game leaves off where the last game ended in a way with all -if not most- of the criminals locked away in the Asylum. The player starts off as a very handsome and classical version of Bruce Wayne, who is purposely kidnapped by Dr. Hugo Strange and put into Arkham City with all the other crazies.
Now first of all, how the hell do you manage to successfully and LEGALLY place a billionaire in a place like that? I have no idea, actually. But I agree that it is an interesting twist.
Now Bruce is chained while he is surrounded by hoards of criminals who all want to, well, kill him. Of course, it's the beginning of the game so he just HAS to be badass. Unfortunately for all the kinky fans who wants Bruce to be chained when Catwoman's around, it is the only time when Wayne is in this state and she's yet to be introduced.
So you kick Cobblepots butt, a few more criminals with bats and whatnot, jump up a building or two and voilà! You're on a roof when our good old butler Alfred drops cargo with the Batman suit inside. As a little bit of a Batman fangirl, I expected the sequence of Bruce putting on his Batsuit to be a little cooler or even a bit more epic. It was good, but I wanted them to show off the suit a bit more. Oh well.
Basically, after this, Batman tries to save the city from utter chaos caused by not just one villian, but a mound of favorites! That's right! I'm talking Strange, Joker, Harley Quinn, Mr. Freeze, Ra's al Ghul, Thalia al Ghul, Deadshot, Bane, Poison Ivy, Two Face, Penguin and some more. That's seems a bit much, even for the Bat. But he has help too. Of course, there's Oracle who constantly communicates with you in a sassy/nerdy tone and Alfred. But DC went far for the fans.
Included as playable characters are: Robin (Tim Drake) in a WAY less flamboyant costume that is actually really badass, Nightwing (Richard 'Dick' Grayson) in his usual 'I'm independent now' suit and Catwoman (Selina Kyle) in her sexy black suit with her trademark whip.
There's also several skins available in-game and for DLC. My favorite: the Batman Beyond Batman skin from the 90's show 'Batman Beyond'. It's featured as a skin for Batman, so it's not Terry like it should be. This DLC is only available in England I believe, but a way to get it is to buy an NOS energy drink and redeeming the code on the cap for a point on the site. There, you can get the skin for just 1 point. There is also the Sinestro Batman; included when you buy the Green Lanturn movie.
Now, Batfan's, go out there and beat the snot of of Joker! Keep an eye out for some...special things in the game too! I mean, come on. You ARE playing as the greatest detective in the world!
Latest reviews