The Talented Mr. Ripley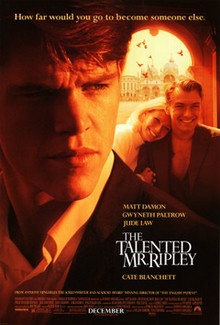 The Talented Mr. Ripley (1999), based off of the book by the same name, follows Tom Ripley, a nobody struggling to make ends meet with a knack for impersonations and forgery, is sent to Europe by Herbert Greenleaf, who promised to pay Tom in exchange for urging his spoiled son Dickie to return to America.
Tom quickly assimilates himself into the eccentric lifestyle of Dickie and his girlfriend Marge, all the while growing an obsessive sort of lust for Dickie, who begins to tire of his new friend's dependency.
The two rent a boat out in Sanremo, Italy to sail, but soon start to fight, Dickie mocking Tom's obsessive dependency on him. Enraged, Tom beats Dickie to death with an oar and rids of the body.
While dropping hints to Marge that Dickie no longer loves her, Tom begins to assume the role of Dickie, living off of his seemingly endless allowance.
But Tom's selfishness does not go unnoticed. When Freddie Miles, Dickie's friend, grows suspicious of Tom, he too is murdered. The police find his body and begin questioning "Dickie" at once, making for even more complications, for the hurt and confused Marge, and her friend Peter Smith-Kingsley, still know Tom for his true identity, while the rest of the world sees him as Dickie Greenleaf.
Tom's dilemma gets deeper and deeper as the movie progresses. Once just the New York nobody, Tom is split into two identities: the spoiled playboy Mr. Dickie Greenleaf, and the crazed, murderous, talented Mr. Tom Ripley.
Latest reviews