The Producers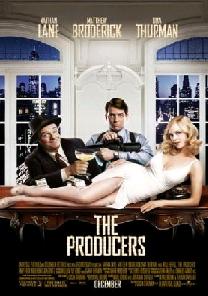 The Producers first started life as a movie back in 1968, created by Mel Brooks and starring Zero Mostel and Gene Wilder. It was then turned into a musical in 2001 and then into a movie again in 2005. The latter two incarnations starred Nathan Lane and Matthew Broderick and it is the newest movie that this review will focus on.
The Producers tells the tale of Max Bialystock (Nathan Lane), a formerly successful Broadway producer who is now down on his luck, and Leo Bloom (Matthew Broderick), an accountant who has a secret desire to become a producer. As Leo goes over Max's books, he discovers that, "under the right circumstances, a producer could actually make more money with a flop than he can with a hit." With this knowledge, Max and Leo set off to find the worst play ever written, which will be directed by the worst director in NYC and star the worst actors they can find. The play will surely flop and they'll be able to take off to Rio de Janeiro with the two million dollars they raised beforehand.
Unfortunately, things don't exactly go that way. Add in a former Nazi, Franz Liebkind (Will Ferrell) who has a soft spot for pigeons, a Swedish woman named Ulla (Uma Thurman), the flamboyantly gay director Roger De Bris (Gary Beach) and his "live-in assistant" Carmen (Roger Bart) and you have a mess that teeters on the edge of disaster.
The Producers contains a great deal of entertainment, especially among the supporting cast. Will Ferrell is the actor that brings the most amount of humor, playing a former Nazi whose love for Hitler has not diminished at all. Gary Beach and Roger Bart also bring a lot of laughs to their parts as two men who are basically every gay stereotype wrapped into one. The musical number that takes place in their apartment (Keep It Gay) as well as the number taking place on the roof of Ferrell's apartment (Der Guten Tag Hop Clop) are my personal favorites in the movie.
The film also had an old Hollywood feel, kind of along the lines of Singing in the Rain. This is only appropriate, seeing as the film takes place in the fifties, but it had a definite air of old time musicals.
However, even though the film has quite a few laugh out loud moments, it was not at all free of flaws. Broderick/Bloom and Lane/Bialystock both give performances that seem far too exaggerated for film and would be better suited for the stage. Some lines sound absolutely ridiculous and for a good chunk of the movie, it seems like they are simply trying too hard. It seemed like Broderick had a more severe problem with this; some of his first scenes with Lane, where he is having a panic attack, literally made me wince. Even after his character transforms into a slightly more confident man, his performance is still a little uneven.
Overall however, I found The Producers a very enjoyable film that provided quite a few laughs. The ending does drag on a little too long, leaving a movie that is two and a quarter hours long, but before that, you will have at least one moment of amusement. (There is one moment in particular with a saluting pigeon that was probably my favorite in the movie.) Although I have not seen the original film and therefore can't compare the two, I believe that Mel Brooks should be proud of director Susan Stroman (who was also the director/choreographer of the original Broadway production) for making a movie that, while it may not be a classic, is still something you may want to watch a few times over.
Latest reviews