Ever After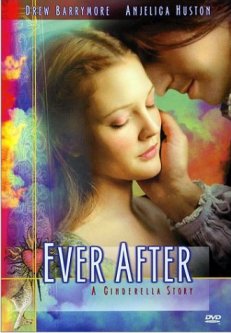 Summary
The opening of the movie shows the Grimm Brothers visiting an old noble woman who claims to know the true Cinderella story. The elderly woman claims that "Cinderella" was her great-great grandmother and she shows them her glass slipper. She begins to tell them the story of Danielle de Barbarac.
The movie begins with Danielle de Barbarac as an eight-year-old girl raised by her father and servants in a small manor of rural Renaissance France. Her mother died early in Danielle's life, bringing her father closer to her. Her father marries to Baroness Rodmilla de Ghent bringing two daughters (Marguerite and Jacqueline) to the manor. He dies of a heart attack almost immediately after bringing them to the manor. The Baroness resents Danielle, because of the strong love and connection between her and her father.
Ten years later Danielle has been forced into being a servant as her stepmother driven the home into financial troubles. The Baroness' elder daughter, Marguerite, is as cruel, the second daughter, Jacqueline, is sweet but too scared to stand up for Danielle.
One morning Danielle meets with Henry, the Prince of France, as he steals a horse from the de Barbarac residence. Bribing Danielle with twenty gold coins for her silence, Henry rides off with the horse and comes across an artist's caravan raided by Gypsies. Henry recovers a stolen painting, which is actually Leonardo da Vinci's Mona Lisa.
The movie continues with encounters of Danielle and Henry. Danielle refuses to tell him her real name giving him her mother's. This later causes major chaos and mistrust within the couple. This movie is beautiful filled with love, betrayal, friendship and a hint of lust.
Cast and characters
Danielle de Barbarac, portrayed by Drew Barrymore.
Prince Henry II, portrayed by Dougray Scott.
Baroness Rodmilla de Ghent, portrayed by Anjelica Huston.
Marguerite (Francoise Louise) de Ghent, portrayed by Megan Dodds.
Jacqueline de Ghent, portrayed by Melanie Lynskey.
Leonardo da Vinci, portrayed by Patrick Godfrey.
Maurice, Louise, and Paulette, portrayed by Walter Sparrow, Matyelok Gibbs and Kate Lansbury.
Gustave, portrayed by Lee Ingleby,
Monsieur Pierre Le Pieu, portrayed by Richard O'Brien.
King Francis and Queen Marie of France, portrayed by Timothy West and Judy Parfitt respectively.
Auguste de Barbarac, portrayed by Jeroen Krabbé.
Side Notes:
Distributed by 20th Century Fox
Release date: July 29, 1998
Running time: 121 minutes
Country: United States
Language: English
Personal Review
My all time favorite movie, it has such passion such romance. This movie was so well filmed and the costumes were so radiant. It is worth watching even the dialog fits the time period. This movie can be motivation and inspiration or just a movie to enjoy.
Latest reviews