The Phantom Of The Opera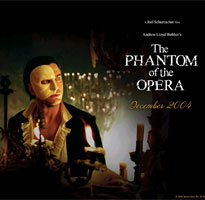 The Phantom Of The Opera is a widely known theatre play which has attracted hundreds of fans with its flowing music, amazing composition and stunning storyline.
Joel Schumacher and Andrew Lloyd Webber teamed up to make a movie that not only captured the original beauty of the story; but also focused on the music to make it an emotionally powerful watch for audiences. It was made to be scary but beautiful; romantic but with horror - a story with a dramatic twist.
The leading role of The Phantom is played by Gerard Butler (The Ugly Truth, 300), who gives a spectacular performance. His acting lives truly up to the expectations of the previous actors playing the same role; with big names of Hollywood and Broadway, this is not easy. His singing is also delightfully up to standard, and adding the fact that he is untrained, the emotion present in his voice astounds.
Emmy Rossum delivers a moving performance as Christine Daaé. Training since she was 7, her singing is immaculate and her innocence of Christine is portrayed to the perfect degree. Rossum outshines her co-stars, her acting true to the character, showing only too well her character's conflicting emotions for the Phantom and Raoul.
Raoul, played by Patrick Wilson isn't an easy role to play. As well as appearing the charming, calm gentleman, Wilson also successfully channels through the raw desperation his character obtains when his and Christine's relationship is threatened by the Phantom.
The music is extremely powerful and brings many a tear to the eye, also employing a sense of empathy for the Phantom and the other characters.
An ideal cast, including Miranda Richarson and Minnie Driver make this film the perfect viewing. Many - including myself - consider this version of The Phantom Of The Opera to be a winning card when compared to the versions before it. I recommend it to anyone willing to watch something a little different.
Latest reviews