Extremely Loud & Incredibly Annoying?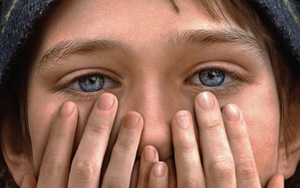 With a mix of two of my absolute favorite faces in Hollywood (along with a few unknown ones), I was overly excited to see this movie. Being a not so avid movie-goer, it's not a typical thing for me to ask to go to the movies, but this one seemed like it should be the exception. So, the day it came out, my mom, the only person who was willing to go watch it with me, and I got in the car and headed off for the movie theater.
By the end of the movie though, I wasn't as satisfied with the final production as I had thought I would be. While Thomas Horn had done an excellent job at portraying Oskar Schell, the character himself just seemed a little too intense at times. Sometimes he had me feeling embarrassed for some of the things he was doing, and by the end, I had this oddly uncomfortable feeling settled down in my stomach. He was definitely out there, a character only a few could truly appreciate, and I just ended up not being one of them.
The beginning was touching, the relationship between father and son was established, and then, the towers fell. That was an emotional time for everyone. I can still remember sitting in Mrs. Foster's class, finding it odd that the television was on (an extremely rare thing), and we watched as the smoke enveloped the city. Some had thought people possibly weren't ready for a movie which touched on that subject, but I do believe they pulled it off well and definitely added more to the movie than if he had just suddenly died. The movie then goes on to life after the father, Thomas Schell, is dead. The boy found a key one night when he was searching through his father's old closet, which then set him off on a search to find the lock the key opened. The only clue he had was the word 'Black' that was written on the small envelope the key was in.
His find sets him off on a search all over the city after he has planned out his adventure. He visited every Black in the city to see if they had any clue as to what the key might fit which allowed him to meet all sorts of people, some nice, some not so much. One night, after trying to reach his grandmother via walkie-talkie, he met a mysterious man who was renting a room from his grandmother. They shared a brief conversation, which seemed a little strange seeing as the man didn't speak and wrote down what he had to say. He asked Oskar if he could join him in his search, and after a slight hesitation, and his mind telling him not to, he agreed to it. The next morning, he met up with the man, and they searched together from then on. In the end, he found that the key, even though it was in his father's possessions, had not truly belong to him. However, he did find the lock for the key.
All in all, the movie was rather well done, and the actors and actresses did a phenomenal job. But I still can't help but think that Thomas Horn's character was outrageously out there and a little too intense for the movie and what it was trying to portray. It's a great watch, if you can take random screaming, self-inflicted injuries and a character that's just a little too much to handle at times.
Latest reviews