I Am Number Four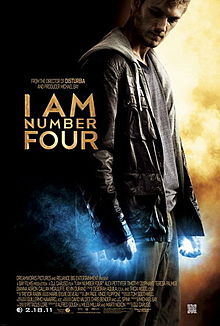 Daniel Jones (Alex Pettyfer) is from an alien planet. An alien planet known as Lorien. He has been sent to the planet Earth along with his Guardian, Henri (Timothy Olyphant) alongside 8 others to escape an invading attack on their home planet Lorien by the feared Mogadorians. The Mogadorians eventually learn about the escape of the eight children and their guardians to the planet earth and come in search of them. But little did they know that a protective spell has been cast on them and hence, they can be killed only in order, and Daniel is number four. With the first three already slain, he is next, and he knows it.
In hopes of being safe, he and his guardian Henri, settle in a small town known as Paradise, Ohio with a new identity of John Smith, where he realizes what he's been missing all along. A normal life, a life with friends, a life with family, a life with security. The situation goes from great to terrible when the Mogadorians discover John and Henri's latest hideout and come to Paradise looking for them.
This is where the film begins. The actors Alex Pettyfer ( as John Smith/Daniel Jones) and Timothy Olyphant ( as Henri) deliver exceptional performances and do justice to their characters and portray the emotions felt by their characters extremely well. Special effects to create realistic monsters and aliens are a highlight of the movie.
The film ends where, John has defeated this set of Mogadorians with the help of a fellow alien known throughout the movie as Number Six ( Played by Theresa Palmer) and special ablilities that John and Number Six have developed with age like Telekinesis, but at the cost of Henri's life. John leaves the town and heads away with Number Six and his latest ally and friend Sam Goode (played by Callan McAuliffe) leaving a town for the first time without Henri, but the first town where he has a reason to come back.
A movie to be honest, I didn't quite like, except for the fact that it starred Alex Pettyfer. If given a choice I would pick the book.
Latest reviews