Degrassi: The Next Generation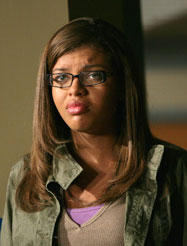 This show is amazing. If you want a hard hitting show that actually thinks about what teenagers go through, the school Degrassi seems far-fetched to what an actual high school is, but actually it's not that far away from what an actual school is. Just the episodes makes it seem like there is a fight every day.
Over the years Degrassi has grown into something amazing, you can see the characters morph into something different right before your eyes.
For example:
The character of Manny Santos used to be sweet an innocent, and she went through many changes and is now a beautiful girl, who happens to like to go around a little too much. She decided to become as she calls it "hot" changing her whole look completely.
The character Liberty Van Sandt changed from an awkward underrated smart girl, with a want to be noticed. To a beautiful smart girl with glasses.
But some characters have changed in their emotions towards other people like the character Paige Michalchuk, when the show first began she had enough meanness for the whole school, but as she progressed and her character went through things, she become a lot nicer, and less hated.
This show is amazing, and the new season begins on Friday, October 5 at 8 PM Eastern time. This will be Degrassi's seventh season.
Latest reviews