The Mighty Boosh: Series 2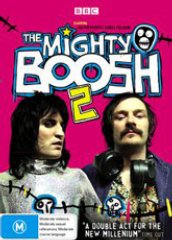 If you're a fan of The Mighty Boosh, whether you never miss an episode or you tune in if you see it on the program guide, or if you're just looking for a new show to watch, you should definitely purchase series 2 when you get the chance. Although the second series was released in 2006 in Region 2, (Western Europe and parts of Africa) it was only released officially in North America in July of 2009. For many Boosh fans in the United States and Canada, this was the first chance to actually get their hands on any of the DVD's and season 2 comes stuffed with enough features to definitely warrant a purchase.
The Mighty Boosh follows the adventures of Vince Noir (Noel Fielding), Howard Moon (Julian Barratt), Naboo the Enigma (Michael Fielding) and his familiar spirit Bollo (Dave Brown.) Series one found them in the Zooniverse, run by Bob Fossil but by series 2, they have moved into a flat. The action isn't limited to there though; they end up in the forest, a quaint fishing village called Black Lake and even another planet.
Although series 2 only contains six episodes, each of them are hilarious and surreal. The episodes are Call of the Yeti, The Priest and the Beast, Nanageddon, Fountain of Youth, The Legend of Old Gregg and The Nightmare of Milky Joe. Even for those who haven't seen many episodes, The Legend of Old Gregg is probably familiar to them, as it's become quite popular on the internet. It is my favourite on the disc and although each episode is just as funny and nonsensical as we've come to expect, The Priest and the Beast would have to be my least favourite in the series. All six episodes have optional commentary by Noel Fielding, Julian Barratt and Rich Fulcher.
For many television viewers, who are used to their box sets containing upwards of fifteen episodes, six may seem a little paltry. Thankfully, the two disc set also contains enough special features that those who need more to fill their Boosh craving will hopefully be satisfied.
First off, there is basically an entire other episode on disc 2; the pilot of The Mighty Boosh (which fans will know as Tundra) is found here, although there are some slight differences from the finished episode, mainly in the opening sequence. There are two twenty minute featurettes, one on the making of series two and the other on the cast members doing publicity and interviews. Outtakes, deleted scenes and a photo gallery are also present. In addition to all this, you get the ten minute short film Sweet starring both Julian and Noel and directed by James Pilkington. The film is a nice extra and it has quite an interesting story line; it's still completely strange but it makes more sense than the show... which isn't very hard to do.
If you've been waiting and waiting for your chance to buy The Mighty Boosh on DVD, now is your time. All three series are available in North America now but if you're looking to introduce your friends or family to this phenomena, I recommend letting them borrow Season 2. The episodes are great and the special features are entertaining in their own right, which definitely can't be said about some more mainstream shows on DVD. It makes for a solid package that you'll enjoy watching over and over.
Latest reviews