Skins Versus Skins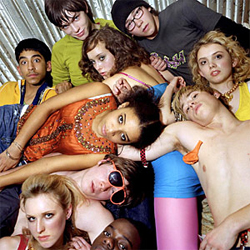 Skins is a British teen drama that follows a group of teenagers in Bristol, South West England, through the two years of sixth form (16 to 19 year olds study for advanced school-level qualifications). The controversial plot line explores issues such topics as dysfunctional families, mental illness (including eating disorders), sexual orientation, substance abuse and death. The show was premiered on E4 on 25 January 2007.
BritishSkins writers Bryan Elsley and Jamie Brittain, who created the UK version, have brought the show over to America. The plot of the American series will be similar to the UK series and is said to stray from the original's plot in later episodes.
They say that imitation is the sincerest form of flattery, but is this the case between the two TV shows?
UK Skins features the teens drinking and partying. However, you can legally drink at 16 with a meal or an adult and you can buy alcohol at 18. In America it is illegal to consume any alcohol unless you are 21 or older, therefore making US Skins a little more controversial.
In the beginning of season one episode one of UK Skins, the first thing you see is Tony under his famous duvet featuring a man's backside and a woman's front. In the US the first thing you see is an unattractive blonde who turns out to be Tony's sister Eura. Both shows do feature Tony sneaking his sister in after watching his nude neighbor dress for the day (US window conveniently covering her up.)
When Tony is ringing his friends in the UK, he sounds convincing while saying exactly what he means without sugarcoating it. It's like he actually wants to get his friend laid and as if he memorized his lines. US Tony, sounds like he was reading his lines as he went. Even though both shows use amateur actors, it seems as though US didn't care who played who and choose at random. It was stated they did not want actors on a professional level, however the ones chosen clearly are in desperate need of acting lessons.
US appeared to not want to copy UK completely and added a few differences in cast such as, Daisy Valero (Jal Fazer in UK) who plays the trumpet instead of the clarinet, Tea Marvelli (Maxxie Oliver in UK) is a female cheerleader and Cadie Campbell (Cassie Ainsworth in UK) is not the sunshine-y girl who is famous for saying "oh wow" and being anorexic.
US Skins also seems to be using quite a lot of cutesy phrases and knowingly unsaid gestures to talk around the sex and drug use on the show. It seems as if they're trying to say what they want, without really saying it. Whereas in the UK version the cast says whatever they feel, adding slang where needed to give a moment of realism or humor.
One of the biggest differences is that US Skins is under investigation for child pornography. The Parents Television Council has fired off a letter to the U.S Department of Justice as well as the U.S. Senate and House Judiciary Committees over concerns the show uses underage actors in graphic sexual situations. The organization explains, "In addition to the sexual content on the show involving cast members as young as 15, PTC counted 42 depictions and references to drugs and alcohol in the premiere episode."
In a poll on this site, everyday teens vote on which premier was better. 9.35% liked both premiers, 13.67% liked the US premier and 76.98 liked the UK premier better.
In your opinion, which is better: US Skins or UK Skins?
Sources
Latest reviews