The Voice!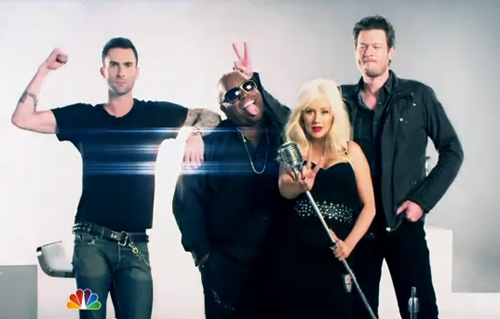 The purpose of this article is to review all the singers that sang on tonight's episode of The Voice. It's my new favorite show and I am very interested in talking about the contestants. Tonight Christina and Blake's teams performed, so here we go!
Raquel Castro: First of all, Blow is my guilty pleasure song so of course I loved hearing it being performed! Raquel did such an amazing job with the song! She never ceases to amaze me with her powerful voice! I think she will definitely be moving on in the competition. In my opinion, right now she is the strongest on Christina's team.
Jared Blake: I must say, this was my favorite performance of the night! He totally rocked that song! When I listen to music, I want to hear something that will move me. His performance definitely moved me, I got goosebumps just listening to him! I don't know that he'll move on though. It'll be interesting to see what happens!
Beverly McClellan: This wasn't her best performance in my opinion. I'm having a hard time explaining it though, I feel like her performance was lacking something. I just can't wrap my mind around it though. I honestly don't think she'll be moving on in the competition, but that's just me!
Dia Frampton: Oh my goodness, I absolutely loved her version of Heartless! She has such an incredible uniqueness to her voice. It gave me the chills hearing her sing that song, it was a side of her that I haven't seen yet in the competition. It sadness me to say though that I don't think she'll make the cut.
Lily Elise: This was my least performance of the night. I normally love the song Big Girls Don't Cry, but she ruined it for me. I feel like the song was all over the place. I couldn't connect to the song, it didn't move me. I'm really hoping she doesn't move on and I don't think she will.
Xenia: This performance made me smile so much! It was great getting to see Xenia break out of her shell and just have fun performing. I feel like in all her other performances she was holding back, but I think she finally let loose with this song! I have a good feeling about her, and I think we'll be hearing more of her in the competition. She, like Dia, has something very unique about her voice.
Frenchie Davis: This was, by far, my favorite performance by Frenchie so far! I think she nailed the song! She sounded flawless, and she was so confident and had fun with it! I didn't start out as a huge fan of hers, but she's definitely starting to grow on me. I think she'll be moving on in the competition.
Patrick Thomas: I almost cried during his performance. I could tell he just poured so much emotion into singing it. It was definitely one of those "moving" performances. He has a great country voice and has such great control. I think he just might make the cut, but it's just too hard for me to tell right now. Blake has some great people on his team. It'll be interesting to see how makes it or not.
Well, ladies and gentleman, that was my review for this weeks episode! Check back in next week when I review Adam and Cee Lo's teams.
Latest reviews