Without a Sound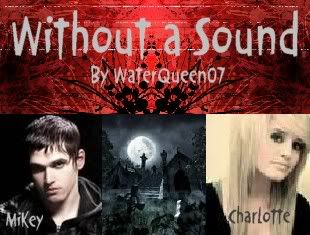 Charlotte doesn't remember how or why she got there. In fact, she doesn't remember anything before being in the dark tomb, but - somehow - she knows she is a vampire. Maybe it is the unbearable thirst for blood she cannot escape.
However, she is trapped. For years, she lies there, as close to death as an immortal vampire can get. That is, until Mikey Way (also a vampire) finds her. When he finally gets her out of the place, she is grateful. However, she has a few problems.
One: She cannot move a muscle. She can't even breathe until she gets the blood she needs.
Two: She is completely disoriented. She hasn't seen, heard, or felt much sinse she was locked up.
Three: She can't talk.
Can Mikey fix her, or is she a lost cause?