Status: Complete
Every Time You Fall Apart You Can Hide Here In My Arms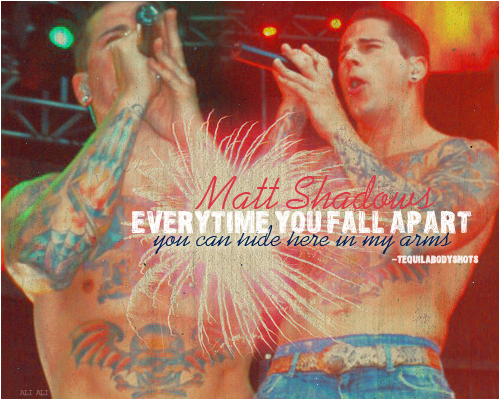 Matt Sanders and Austin Barker have been friends since forever. But one night brings them together in the most intimate of ways, only to rip them apart. Now 5 years later they are reunited. Matt would like to make ammends, but Austin has other plans. Needing him was something she no longer needed, or so she thought.
** I do not own any member of the Avenged Sevenfold family or Eighteen Visions or anything related to them. This story is 100% fiction and their personalities depicted here are my own.**
(c) 2007 TequilaBodyShots. All Rights Reserved.
"Zacky Vengeance may be my favorite, but this is one of the best stories on M.Shadows I have ever read." - Kasey J Vengeance.

"I just finished reading this story, and it made me cry like four or five times. I loved it!" - stfumbrella