Status: Drabble/Complete/Finished
Words
*********
*************
*****************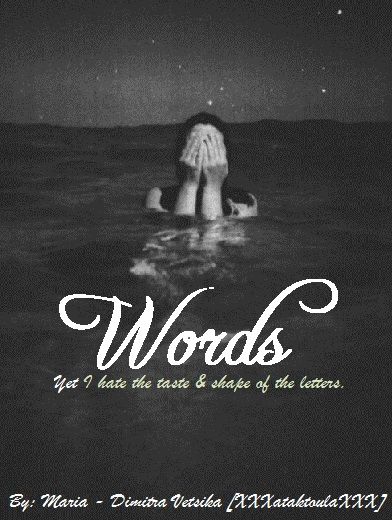 -Summary-
You'll never hear me admit it,
those dreaded words.
They don't roll off the tip of my tongue,
as slick as they used to.
They have become bitter and swollen,
so I force them out of my mouth.
I hate the taste and shape of the letters,
so I won't write them down.
I'll just scream instead,
I miss you.
-Series-
It's the twenty-fourth part of the ''Tales of the Past'' series.
-Word Count-
541
Copyright-
Story is mine, written by me, edited by me, posted by me. The summary is the poem
Words
written by
iggy.
which I changed a bit to fit the plotline I had in mind. Credits for the story's title go to
iggy.
as well. Credits for the
Black Denim Layout
go to
SugarLandBabyGirl
. You steal and I'll report you, comprende? Constructive criticism is more than welcome.
-WON 2ND PLACE ON THESE CONTEST-
Picture Short Story / Drabble Contest
Watch Your Words
with the word count limit being 500 and based on the 10% rule (word limits can be over or under the specified limit by 10%).