How to Create a Theme
I. Themes
Coming up with an idea for a theme can sometimes be the easiest or the hardest part. What can be used are songs that you relate to, quotes from movies, television shows, or celebrities, and personal quotes that you of a friend have said or created. Once you find what will suit you – I'm going to be using lyrics from Mr. Brightside by The Killers in this tutorial – you'll want to find an avatar that matches.
II. Avatar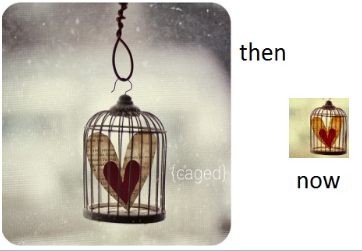 This step and the signature step are interchangeable – sometimes, it's easier to visualize a theme if you've got the layout down before you create an avatar – so it all depends on how you work. What you will want to find in an avatar that represent the content- if it's a quote from a movie or television show, find a still from the scene or of the character to add a face to who is saying the quote. If it's a song lyric, a screenshot from a music video or an image that shows what the lyrics are saying will work brilliantly, and if it's a quote from a celebrity, a picture of them will always work. Great sites to find pictures for avatars are weheartit, flickr, and tumblr; be sure to credit the photographer if they ask for it! If you aren't able to make an avatar yourself, however, there are threads on Mibba where you can request and communities on Livejournal where you can search for the avatar you will need.
Once you've got the image, you're ready to move onto editing. When creating an avatar, editing is key. You'll find it very useful to have an account on a website like Photobucket so you can use their editing service, if you haven't got Photoshop or an editing program on your computer. Upload the avatar to the website or open it up in the editing program you have, and look at the image. Are the colors bright enough to match the lyrics, if the lyrics are upbeat? Do you want to have colorful gradients, or black and white? For this particular theme, I'm going to saturate the colors so that they seem warmer, and resize the avatar down to 60x60. That's a great trick to use, actually- resizing the avatar before uploading to Mibba will keep it from giving you any unwanted pixilated surprises.
Now that you have the avatar, you're ready to move onto the signature portion of a theme.
III. Signature
For many, this is the most fun part of making a theme. You'll want to be familiar with BBcode and the new gradient code and be willing to play around with the signature until it's just right. One way to create a signature and see how it will really look is going to a thread, hitting the "Reply to this Topic" button, and making the signature there, or using the signature box located under Message Board on the right hand side of "My Mibba," just under the Profile category.
First off, you'll want to create the layout for your signature using BBcode. For this Mr. Brightside theme, I'm going to center it, and using a size 300 Courier font and a size 85, type the lyrics. Then, I'm going to offset the signature over towards the right hand side by using white underscores. You can see the coding under the post preview.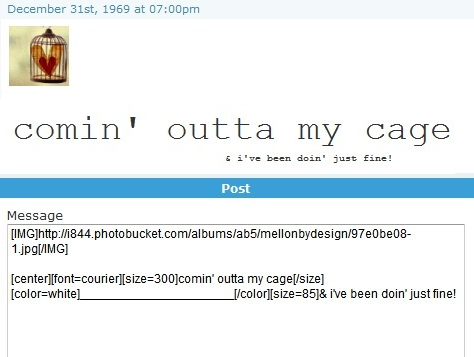 Now that you have the layout of the signature, you will want to put color or gradients into it. If you're not willing to download something such as Instant Eyedropper, you may want to ask in the Avatar Helpline or the General Q/A thread for someone to get the colors for you- I'm going to be using Instant Eyedropper to take the colors.
After taking the colors you wish to use, you can do gradients and put in colors alternately to create something eye-catching, along with using Character Map. Preview your post a final time to ensure you're satisifed, and then go to your signature box and preview one last time to ensure that it fits – you're only allowed about 989 characters in your signature. Be sure to save your previous signature, if you had one, beforehand in case you ever want to go back to it, and then hit save.
Voila! You've got a shiny new theme to flaunt about on the forums!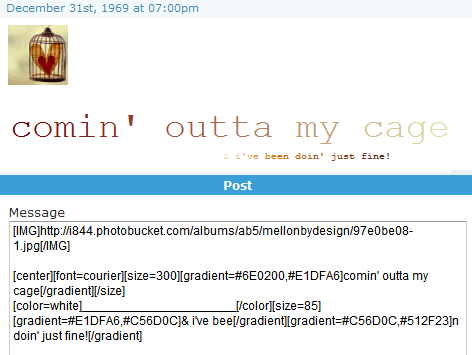 Latest tutorials