Chicken Burritos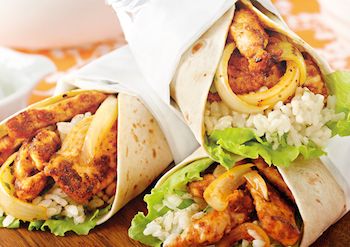 Burritos are always a fun and healthy meal to have, and are easy to personalise based on what food is in season and what you have in your fridge. If you have a larger crowd to please or children, then place bowls of the various toppings around the table so everyone can help themselves and create their own perfect burrito. This recipe is particularly great to help you cool off in the warm summer evenings!
Ingredients
Diced skinless chicken
One diced onion
One clove of garlic diced into small pieces
One red chilli pepper diced into small pieces
Paprika
Tortillas
Toppings of your choice (suggestions down below!)
Instructions
Cook the chicken in an oiled pan until browned.
Add the onion and garlic and cook for approximately five minutes until they are brown and soft.
Sprinkle with the chilli pepper and paprika, mix, and then remove from heat.
Divide the chicken evenly between the tortillas. Give the tortillas a 30 second zap in the microwave first if you'd like them warm.
Add your toppings! You can add whatever you'd like to your burritos, but here are some suggestions: lettuce, tomatoes, avocado, red onion, sour cream, salad dressing, olives, shredded carrot, salsa, cheese, cucumber.
Wrap the tortilla around the contents and then enjoy!
Tips
To add some variance to your burrito recipe, try some of these suggestions!
Exchange the chicken for mince.
Add beans to the mix.
Try out some other spices – cumin is another good one!
If you are after a more filling meal or want to spread out your ingredients, try adding a spoonful of rice to each burrito.
Add some herbs to your salads, such as parsley or spring onion.
Serve with corn chips as a side dish.
Latest tutorials