Pavlova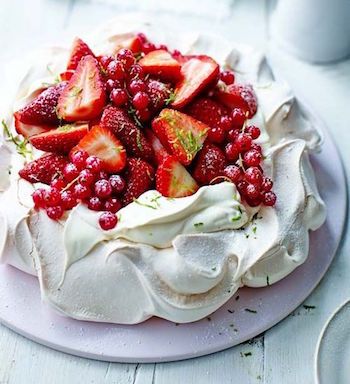 Every Australian and New Zealander knows this dessert well, and there has been a long debate about which country first came up with the recipe for the tasty treat. Rivalries aside, the Pavlova is a light and sweet dessert that is often brought out for a summer Christmas, but can be enjoyed all year round. Follow these simple instructions to create a taste from Down Under!
Ingredients
6 egg whites
2 cups of caster sugar
1 teaspoon of vanilla essence
1 teaspoon of vinegar (any type will do)
Instructions
Preheat oven to 110°C (230°F).
Pour all ingredients into a bowl and mix with an electric mixer for approximately ten minutes until thick.
Spoon the mixture out onto a baking tray lined with baking paper. You will want the Pavlova to be about the size of a dinner plate, and simply heap the mixture into one big pile. There's no need to try to create a perfect circle as the rough swirling edges only make the Pavlova look prettier!
Bake for approximately 90 minutes. When the Pavlova is dry and easily comes off the baking paper then it is ready to come out and cool.
Serve and enjoy!
Tips
Complement your Pavlova with some cream.
A selection of fruits also go very well with this desert – try some kiwifruit, strawberries, or blueberries!
Instead of making one large Pavlova, create smaller circular dollops with your mixture and reduce your baking time appropriately. You can even create a depression in the centre so it can be filled with fruit or cream when served!
Add three tablespoons of cocoa powder to the mix to create a chocolate Pavlova.
Latest tutorials