Carroll Shelby KR (King of the Road)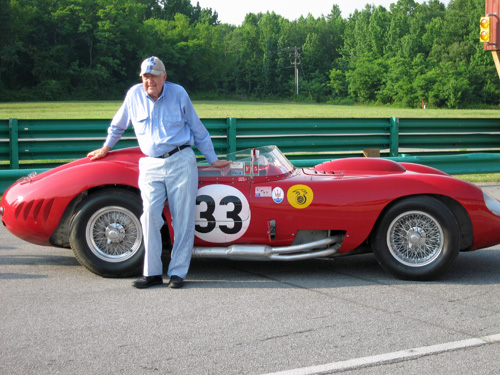 Carroll Shelby, a Texan, is the man behind the famous and very admirable Shelby cars (Cobra, Shelby Mustang, Ford GT40 and Shelby GT500/GT500KR, just to name a few). In the 1960s, Shelby impacted the automobile industry forever with his clever and classy innovations and entertained racing fans with his incredible track speed and talent.
These Shelby cars are the cars that turns heads today with their glamour, vintage, performance and, of course, makes people scream when they see the price tag. Nevertheless, these are the cars that every rev-head and car buff dream to having sitting in their garages.

Shelby's cars could be defined as 'modified' as almost all of his inventions were made with the parts of other admirable machines (which rev-heads and car buffs also wish were sitting in their garages). 1962, was the birth year of the famous Cobra: bulit with a high-powered Ford V8 engine and the chassis and body of an English AC Ace, the Cobra is the ultimate Shelby. January 1965, Shelby developed the Shelby Mustang GT350. Soon followed the Ford GT40 and the Shelby GT500/GT500KR, which was a modified Ford Mustang.
Even though its creator could no longer race due to car complications, the Cobra entered the motorsport world, and won its first GT Championship in 1965 in the large-engine category. However, Carroll, before becoming one of the greatest car manfacturers in the world, had his own success on the racing circuits - he is only the second American to ever win France's phyiscally demanding and well-respected 24 Hours Le Mans in 1959, co-driving an Aston Martin.

Carroll Shelby is undoubtedly on of the greatest race car drivers of the twentieth century with his breathtaking speed and talent. Carroll Shelby began racing in 1952 driving in quarter-mile drag meets and winning road races. It wasn't until 1954 that Shelby caught the attention of the Aston Martin team, and it wasn't long before Shelby was a part of the team. Shelby drove for the team at Sebring and across Europe.
Shelby's talent and speed as a race car driver shone through in 1957. Driving for Maserati in the 100 mile race at Riverside in California, he fought back from a first lap spin, which put him at the back of the field, to go on and win the race - by then, making him one of USA's leading motorsport athletes.

Carroll Shelby was born in 11 January 1923, in Leesburg Texas. Shelby served in the American Army Air Forces as a flight instructor in World War 2, after he worked at oil fields in Texas before becoming a chicken rancher. It wouldn't be surprising if his passion of cars was influenced by his father, whom carried out his mail deliveries in a 1928 Whippet.
Carroll Shelby died on May 10, 2012. He was 89.
H.L. Small
12/05/2012
Follow Me: @H_L_Small
Latest articles