SOPA's Twin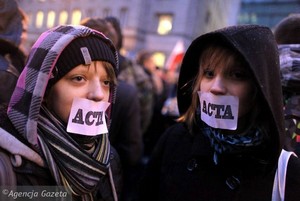 Fan's of on the internet sighed a breath of release when the White House accounced it's opposition to both SOPA and PIPA bills on January 14th. But the joy didn't last long for this is a world where people aren't happy unless they are stepping on the rights of others. Que ACTA (Anti-Counterfeiting Trade Agreement).
ACTA was first brought to the public's attention back in 2008, after already being discussed for two years, by Wikileaks when they published a discussion paper. But what does the treaty do exactly? Simple. It combines counterfeiting and piracy as if they were similar, when in all actuality, they are nothing alike. Counterfeiting is when a customer is suckered into buying a knock-off item, a fake phone or fake designer clothes. Piracy is when someone distributes an unauthorized copy of a movie or a song. Copyright holders, such as movie studios and records labels, try to make repercussions of piracy aimed as high as the repercussions of counterfeiting. This is how SOPA and PIPA as similar to ACTA.
People opposed to this treaty have said that activities such as non-commercial file-sharing could be turned into crimes because the agreements is unclear on exactly what "commercial-sale" piracy is. Even though file-sharing is usually handled by the civil court system. So instead of getting a summons server knocking on your door if you download one—or ten, or a thousand movies—you will get a police officer. But, once again, we aren't to sure because we have absolutely no idea how the U.S. Enforcement agencies will interpret this treaty. Though is has been stated that "the US needs to retain certain parts of copyright law that many reformers believe should be changed." Meaning, if Congress comes up with another SOPA they can pass it just because of the treaty.
But why is this only now causing protests in Europe? Because now Poland, Ireland and the European Union announced they would sign on this week, moving the pact closer to reality. But don't worry, seventy-five law professorts wrote a letter to President Obama urging him not to sign the letter back into 2010. He did it anyway. Other current-signers of ACTA, which was, no surprise, orginally developed by America and Japan, are Australia, New Zealand, Canada, Morocco, Singapore, and South Korea.
Latest articles