Mibbian Makes It Into NME Magazine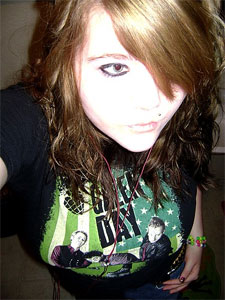 Mibba's very own junior journalist Kurtni Von Teese has been directly quoted in New Musical Express' latest issue in an article featuring the discussion of Green Day's near future.
The sixteen year old, well known for her strange obsession with Dita Von Teese, had been contacted by the article's author via Myspace following his acknowledgment of the many articles Kurtni contributed to hardcore Green Day fansite, Geek Stink Breath.
Kurtni has been given her very own paragraph in the article, arguing that it is unlikely that Green Day will "approach the process as following-up 'American Idiot', but as doing something entirely different and new".
She also went on to mention the band's ongoing attention to various environmental issues.
"They've become very environmentally active lately, with their NRDC partnership and an endorsement of Earth Hour", she explains.
"Billie Joe is obviously politically minded, so I wouldn't be surprised if that influenced the new record ... They wouldn't be taking all this time if they were just duplicating their last album".
Kurtni is widely known for her exceptional articles both on Geek Stink Breath and Mibba, as well as being a constant visitor to the Serious Discussion threads located on both websites. Her inclusion in the article has excited several Mibba-Green Day-goers.
"I think it's pretty cool that a fan gets to share her opinion on it", says fellow Mibbian Kad, "instead of the critics all the time. I think they should ask more fans what they think of the band's current position at the moment".
At a time where Green Day fans are anxiously waiting for further signs of an American Idiot follow up, there is little hint of what direction the band will be taking. For now, all they can do is wait - or follow in Kurtni's footsteps and get their voice heard.
Latest articles